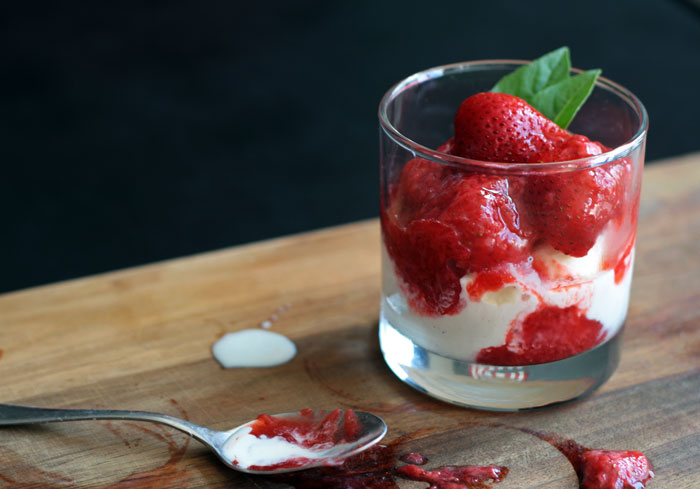 I had to eat so much ice cream to get that one picture, you guys.
I know, a real tragedy.
And it's still not quite what I was after. Photographing ice cream is a difficult, melty mess. Jeez. Dreams of the perfect scoop sitting pretty in a champagne coupe aside, I persevered because pickled strawberry ice cream sauce is amazing.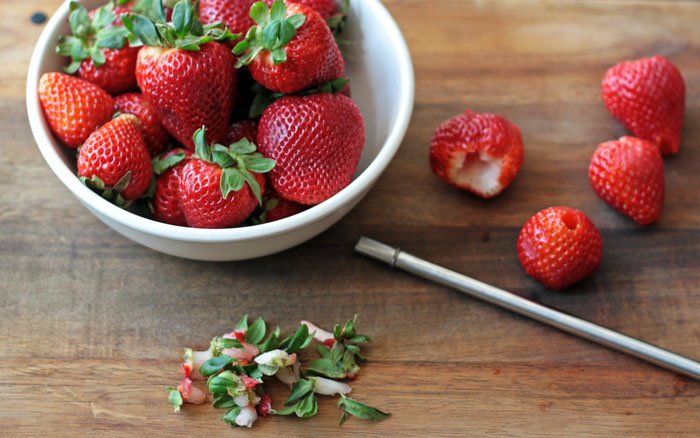 And if you don't believe me, it's insanely easy to make, so just go ahead and try it.
And while we're on the subject of insanely easy, do you guys know about coring strawberries with a straw? You just shove the straw through the bottom of the strawberry, and off pops the top! Amazing right?
Or maybe I'm just easily entertained…
But if I can pull off this recipe in a cloud of post-Japan pickle withdrawal jet lag, then you can definitely whip up a batch tonight, and be eating pickled strawberry ice cream sundaes this very weekend.
Yep, this weekend. Those beautiful berries need to sit overnight in a red wine/honey marinade to become pretty piquant pickles. So what are you waiting for? To the kitchen!
Jet lag, I salute you for this recipe.

Pickled Strawberry Ice Cream Sauce
This sweet-tart strawberry sauce has just a little bite at the end, making it the perfect partner for ice cream, whipped cream, and creamy cheeses.
Ingredients
1 lb strawberries, cored
½ cup red wine vinegar
¼ honey + 1 tablespoon
6 peppercorns
1 teaspoon vanilla
Instructions
Heat vinegar, ¼ cup honey, peppercorns, and vanilla on stove, stirring until honey is dissolved. Let cool to room temperature.
Slice larger berries in halves or quarters and leave smaller berries whole.
Pour vinegar mixture over berries. Cover and refrigerate overnight.
Strain strawberries and reserve vinegar mixture.
Heat strawberries, ¼ cup vinegar mixture*, and 1 tablespoon honey in small pot over low heat for 10-20 minutes or until you are happy with the consistency.
Notes
*If you prefer a sweeter sauce, you may want to substitute ¼ water for the vinegar mixture when heating the sauce.