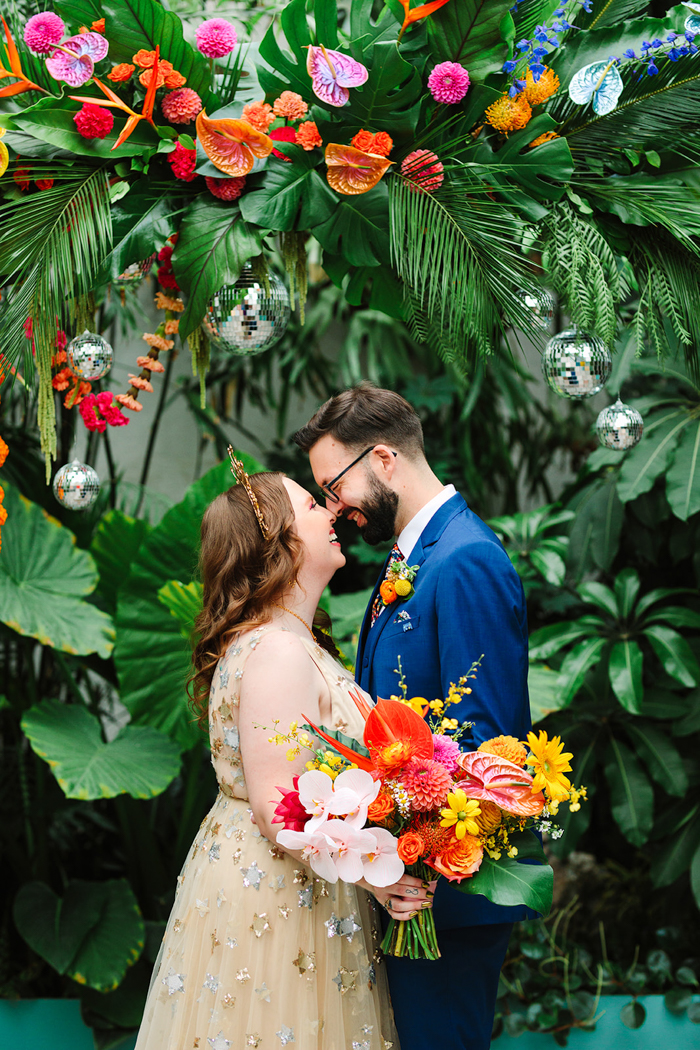 Originally scheduled for 2020, and then rescheduled, and then rescheduled again (thanks Covid), we were so thrilled to finally get Julia & Jackson to the altar.
And what an altar it was!
We created this suspended tropical installation with #nofloralfoam, as per usual, and incorporated disco balls, dahlias, and a few veeeery special anthuriums from our friends at Haus of Stems.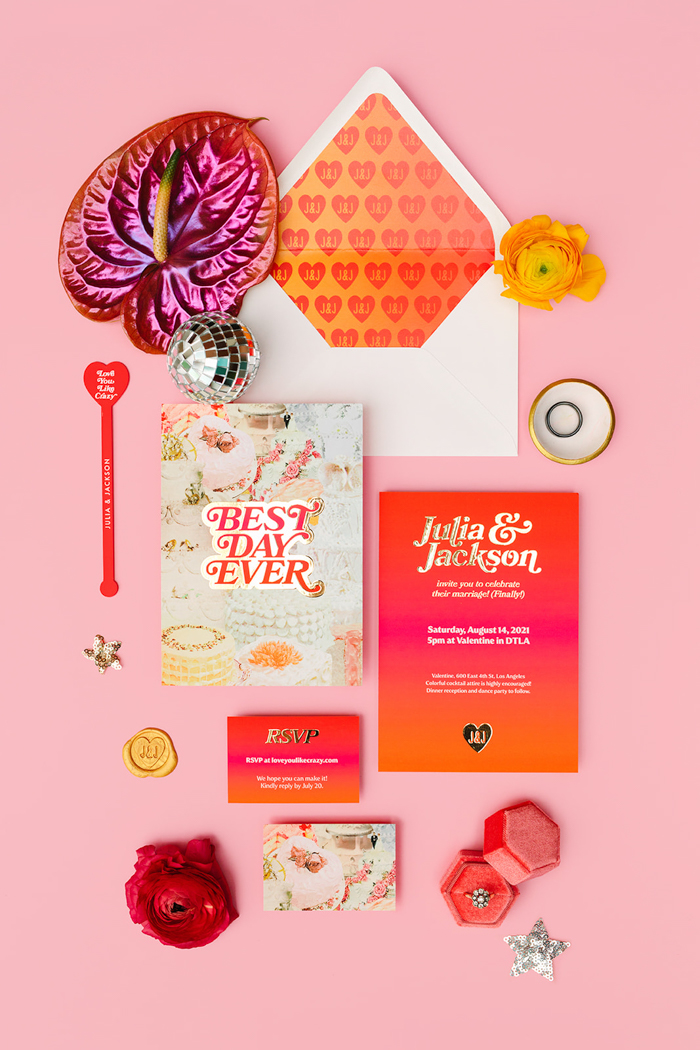 How cute is this flatlay? The paper goods- designed by Julia Walck herself, were incredible, and they were styled to perfection by Mary Costa Photography.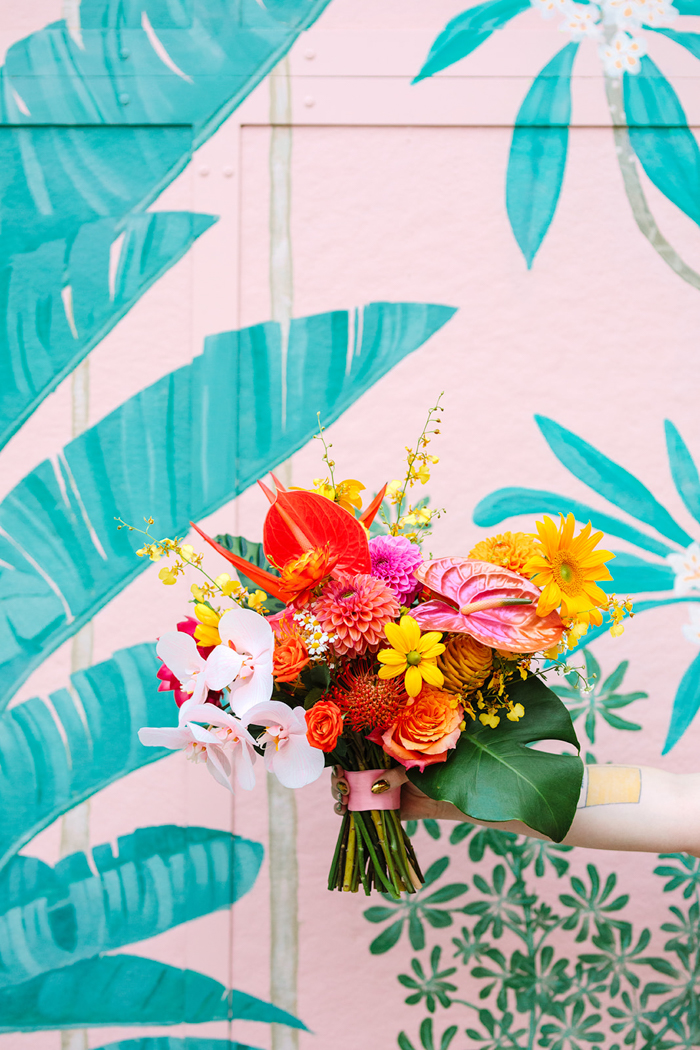 So, let's talk about Julia's super eclectic bouquet. It features a hot pink phalaenopsis orchid, local dahlias, rudbeckia, and sunflowers, AND those ridiculously amazing anthuriums from Haus of Stems, AND tropical accents like ginger, monstera, and birds of paradise.
Color, texture, personality- this bouquet has it all, and then some!
It's my maximal tropical garden dream bouquet. For real.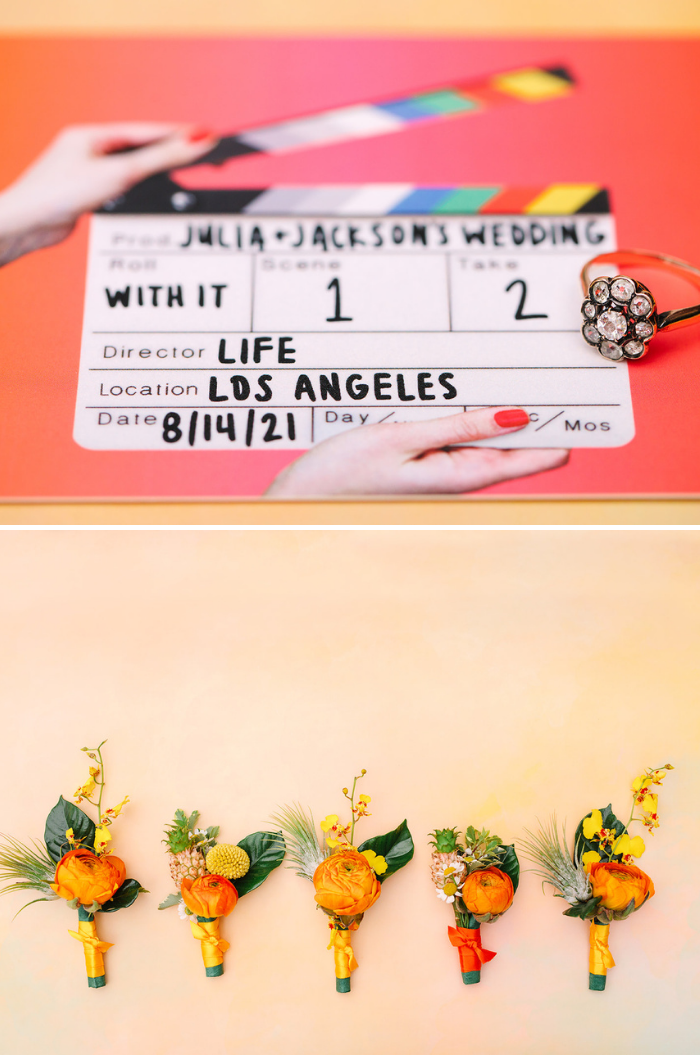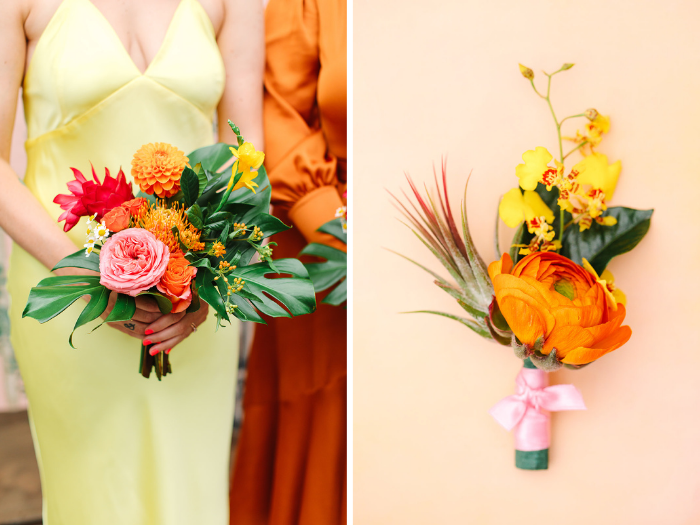 We kept the personals bright & fun, in sunset sherbet shades of yellow, pink, orange, & red. Those tiny air plants in the bouts? Chef's kiss for the cuteness!
Fun fact: when you incorporate air plants or tiny succulents into your personals, you can keep them post wedding or event.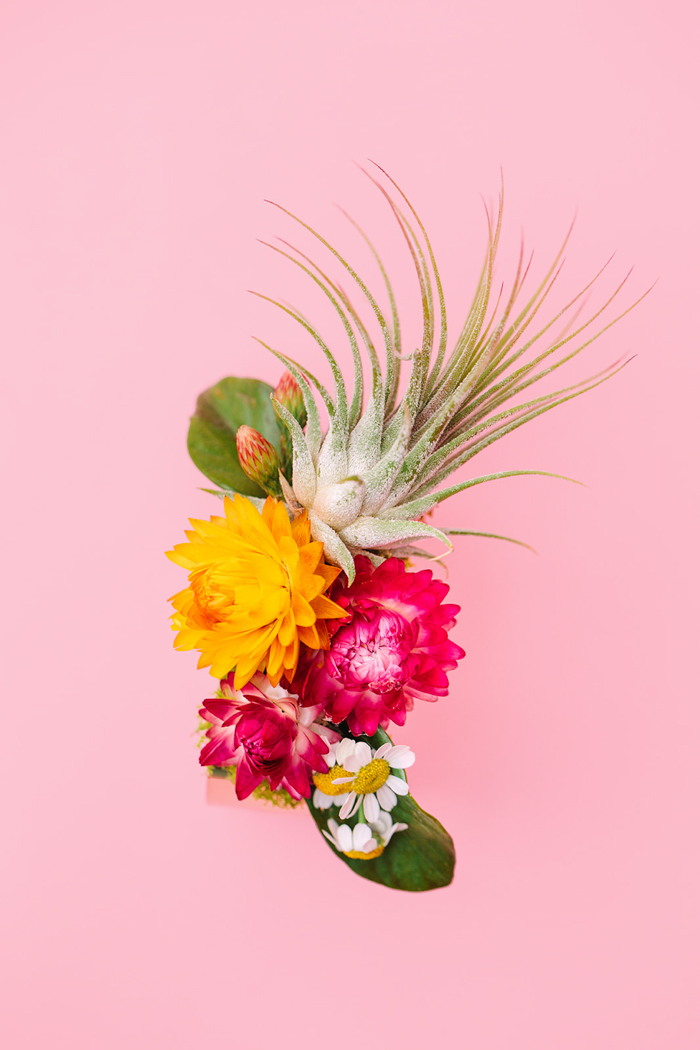 I think the chamomile on this wrist cuff corsage also understood the cuteness assignment.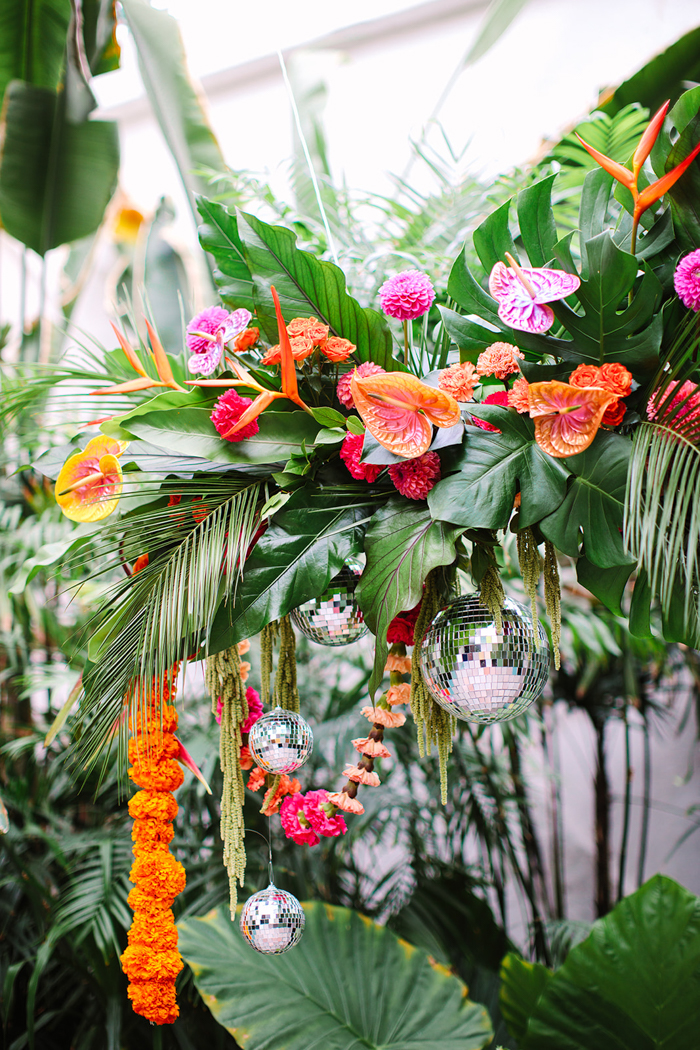 In the before times, we actually didn't have any ceremony decor on our order! Site-specific installations are my jam though, so I was thrilled when Julia & Jackson added this hanging floral installation a few months before their wedding.
Even more so, because they let me do my thing when I politely inquired if they would mind if I hung a bunch of disco balls in it. I know, I know…who can say no to a bunch of disco balls?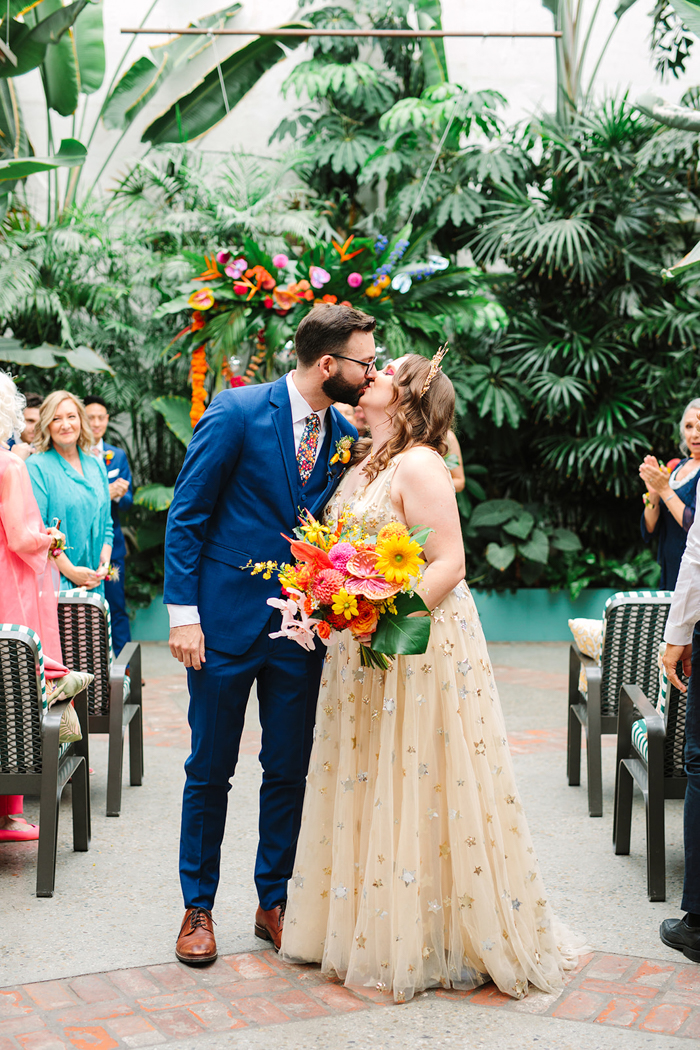 I probably say it in every blog post, but this shot is always one of my favorites! That post-ceremony, superexcitedwehavetostopandkiss moment when the couple is recessing up (down?!) the aisle.
Aren't they just perfection- the dress, the crown, the makeup, the suit, the tie, the love. Every last detail!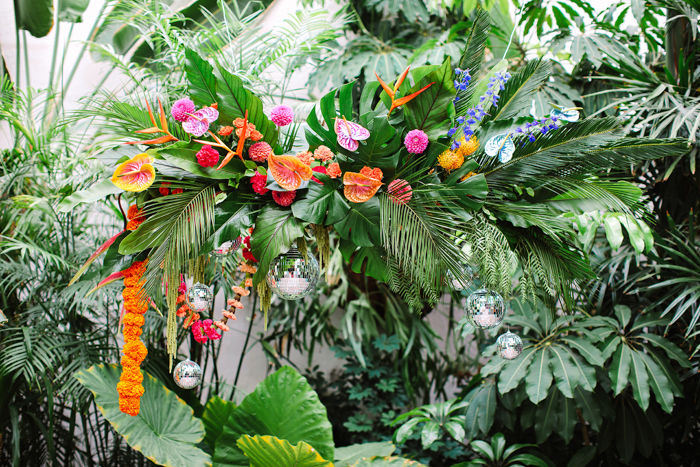 Kinda like it just grew there, huh?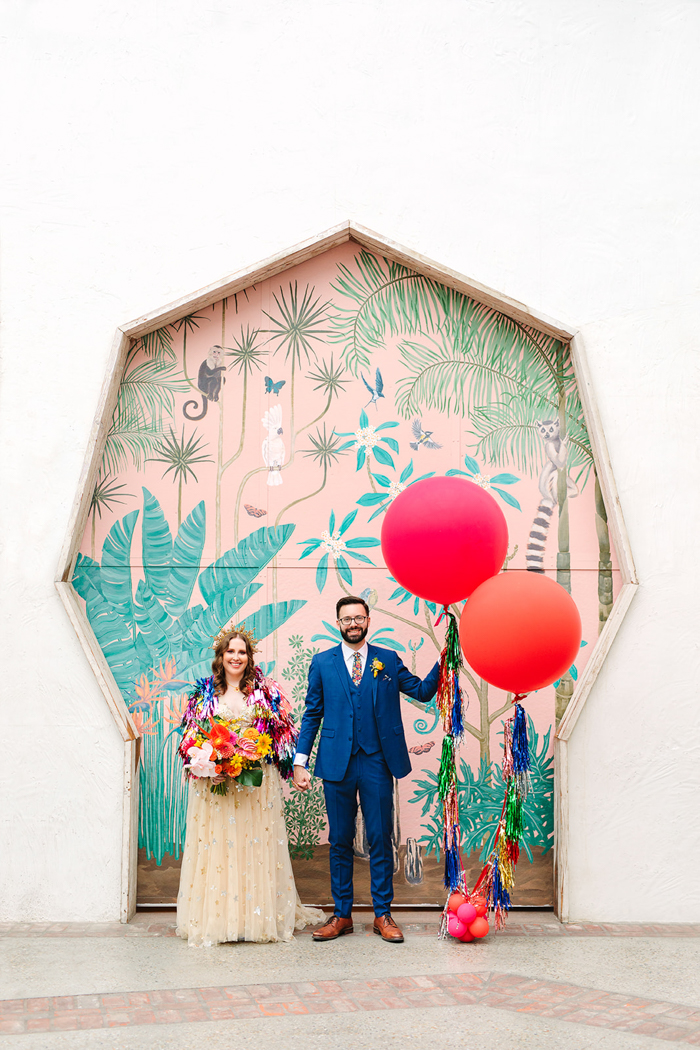 THE FRINGE. I bow down to you Rachel Burke.
And now would be a good time to talk about hiring a wedding planner who really gets you.
Holly of Anything But Gray Events always understands the assignment. AND how cute is it that she surprised Julia & Jackson with these perfectly colorful & coordinated fringe balloons on their wedding day?
Get yourself a Holly.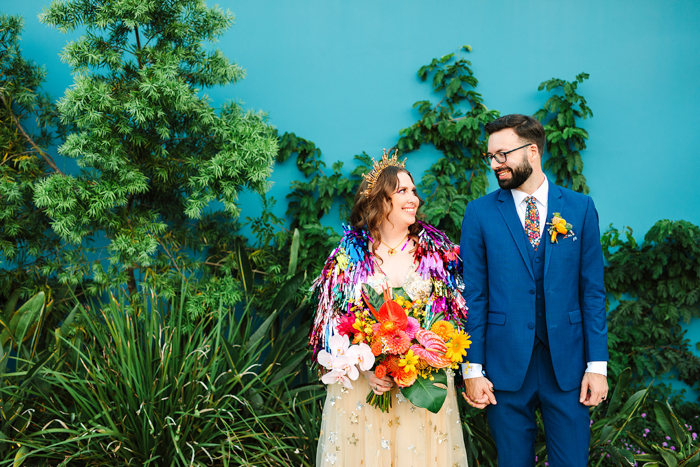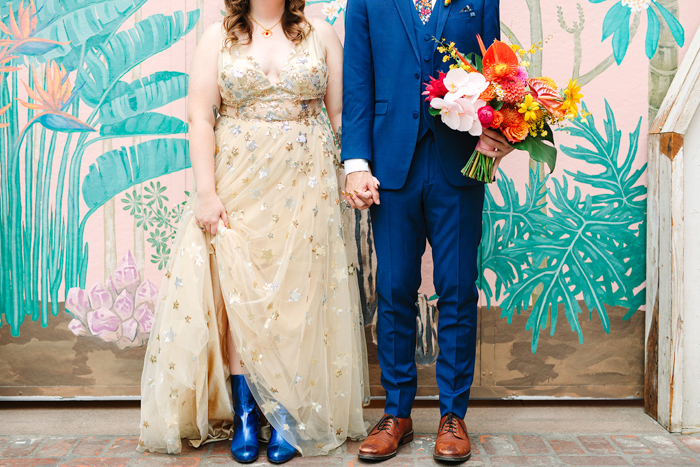 Julia's boots are everything. And as a boot bride myself…all the heart eyed emojis.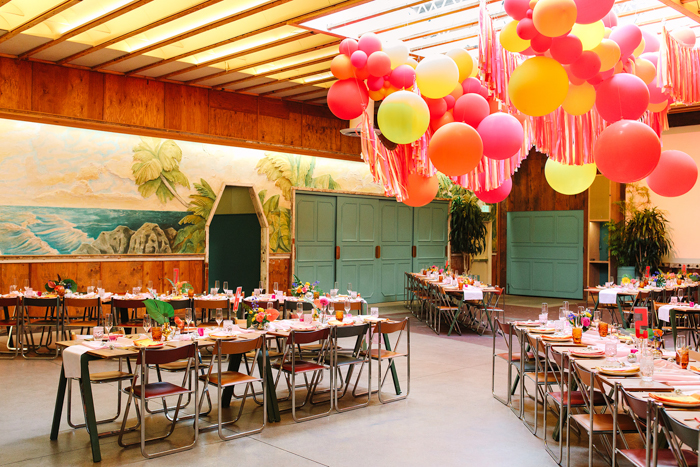 The color continues…all the way to the ceiling in this fabulous balloon installation by the one-and-only Marla, of Balloonzilla.




More fabulous paper goods. More colorful blooms. And the custom drink stirrers?
Best day ever indeed!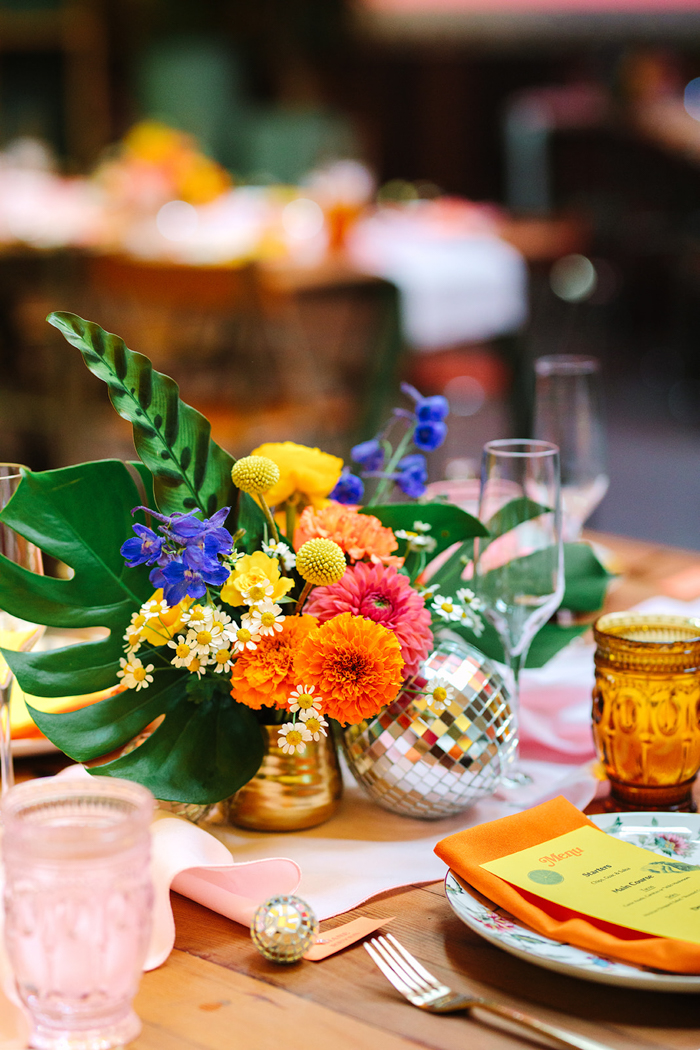 We mixed these cute and colorful tropical mini arrangements with bud vases of bright blooms, and of course, more disco balls!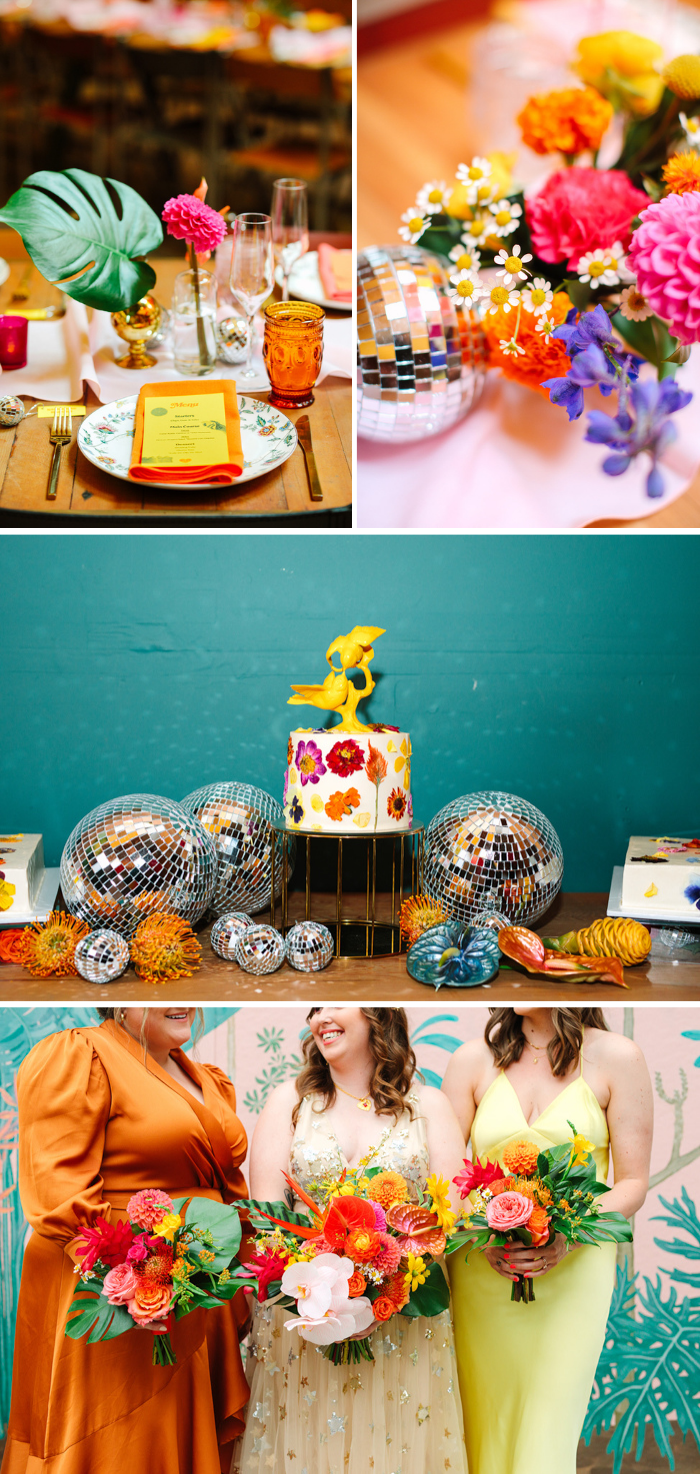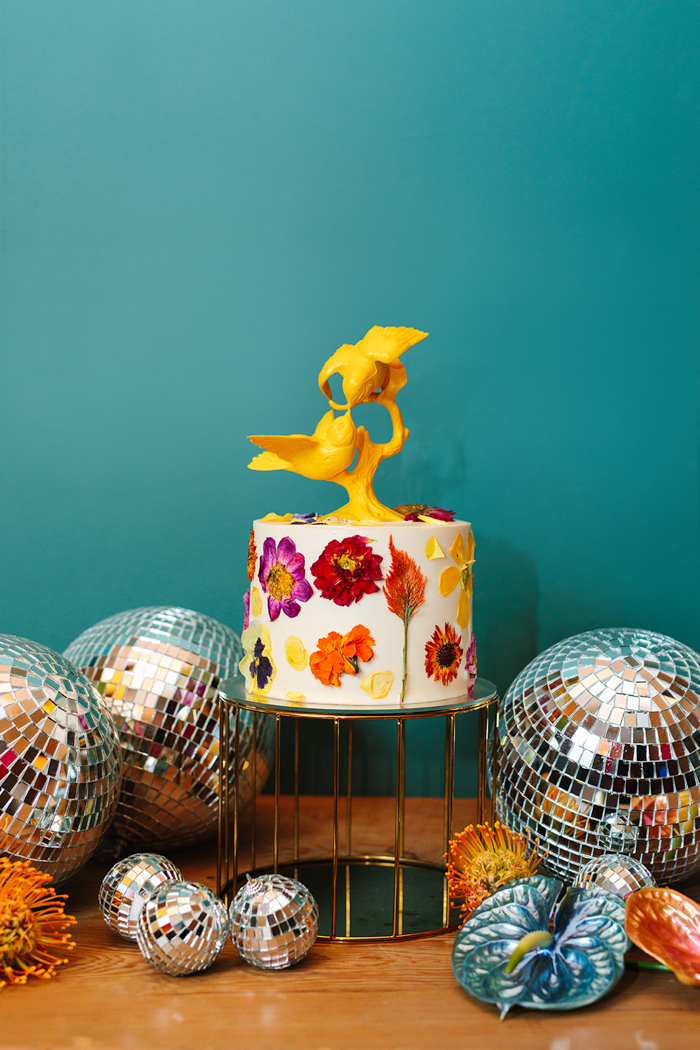 More pressed-flower cake perfection from my pal Nicole of Nicole Bakes Cakes.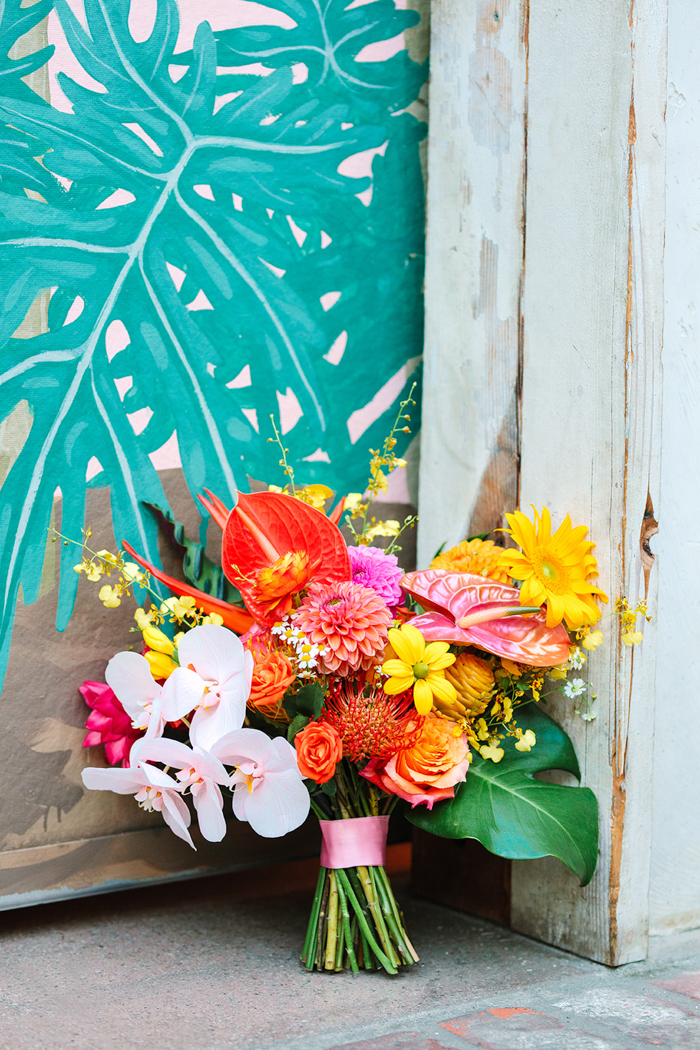 And one more gratuitous bouquet shot.
Because Mary Costa really is the best.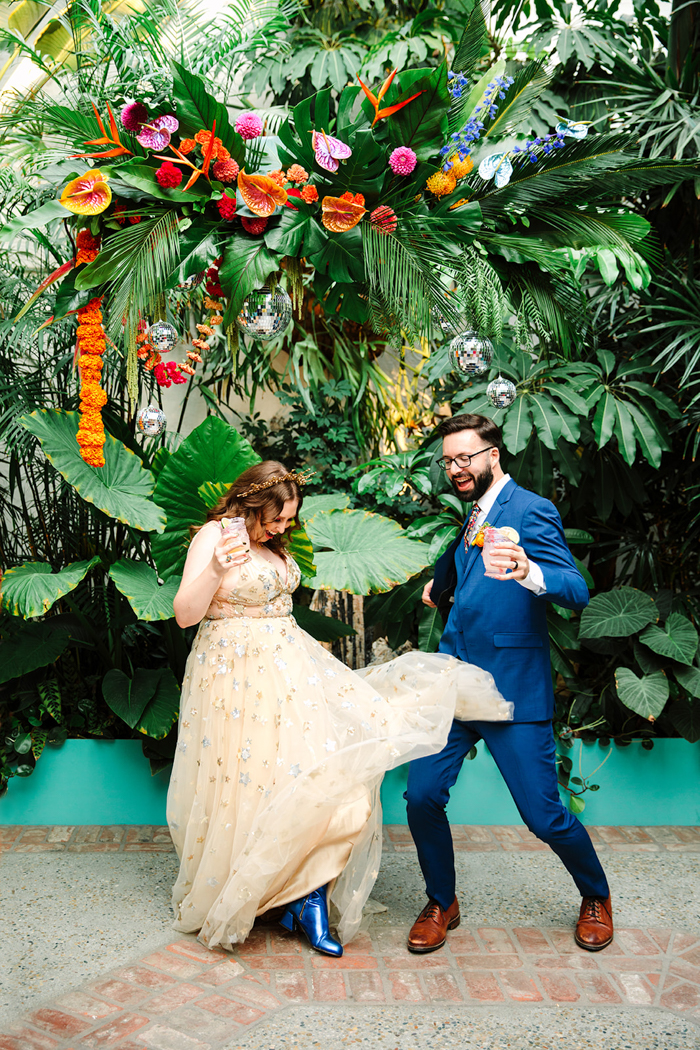 It was so much fun to bring the flower magic to this colorful wedding day.
Julia & Jackson- we're wishing you a lifetime of dancing with joy (and disco balls)!

Published!
Check out more of Julia & Jackson's Tropical, Disco Ball, Colour Pop Wedding over on Rock n Roll Bride!

Magic Makers:
Venue: Valentine / Planning: Anything But Gray Events / Photography: Mary Costa Photography / Videography: Elevate Films / Floral Design: Winston & Main / Catering/Bar: Border Grill / Cake: Nicole Bakes Cakes / DJ: RedShoe / Balloons: Balloonzilla / Paper Goods: Julia Walck / Rentals: La Pinata Party Rentals / Photobooth: Classic Photo Booths / Valet: White Label Valet / Shuttle: Riz Transportation / Dress: Willow by Watters / Alterations: Deborah Lindquist / Jacket: Rachel Burke / Crown: Carbickova Crowns / Boutique: Lovely Bride / Wedding Party Beauty: Face It Sugar / Family beauty: Betsy diFrancesca / Suit: Friar Tux / Officiant: Great Officiants /