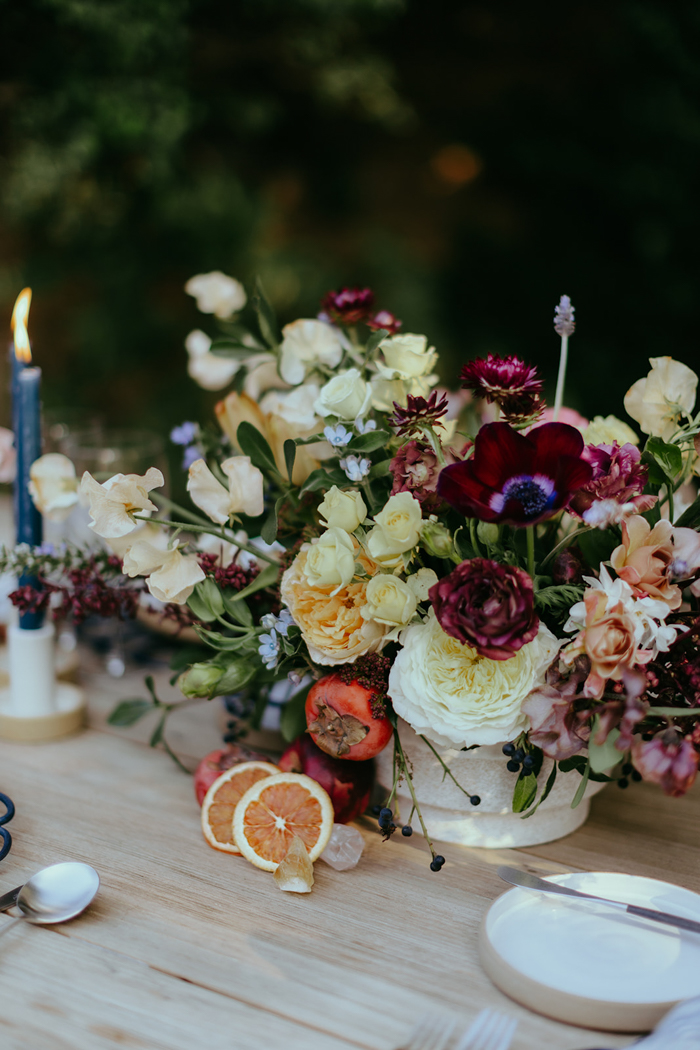 You might not think of January as the time of year to indulge in a decadent al fresco dinner party. But in Los Angeles? We're spoiled and the weather is *almost* always perfect. 




So after multiple years pandemic-ing, it was a joy to gather with fellow vendors and friends to bring this beautiful day to life. And then to really ENJOY it, together.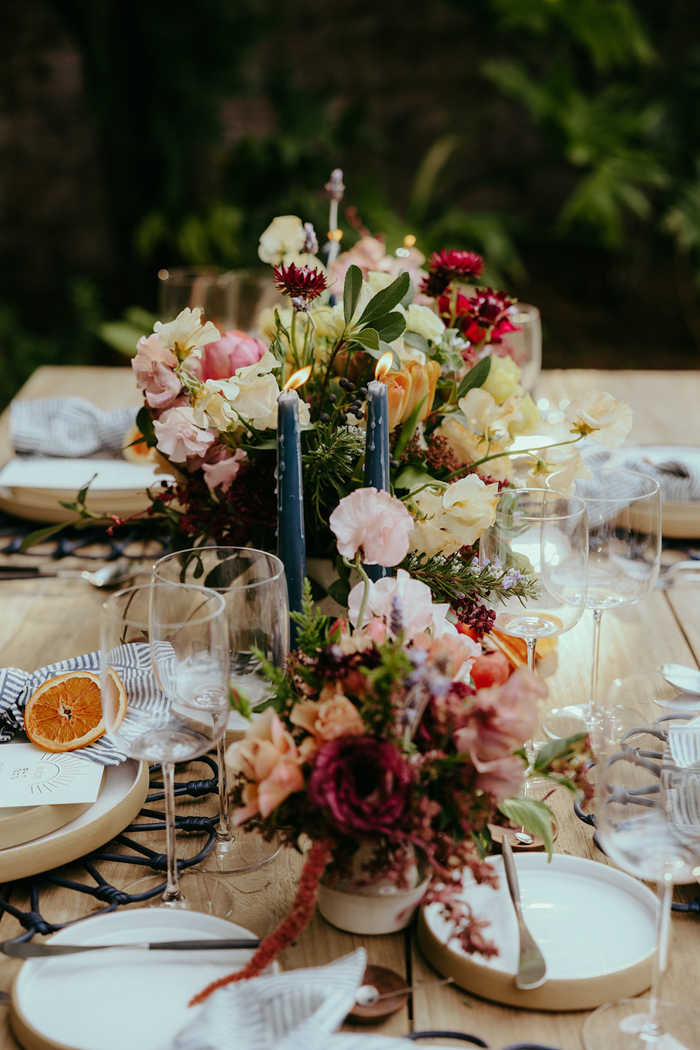 Something I've been thinking about a lot lately, and trying to be really intentional around, is treating myself (and my team) to the same beauty we create for our clients.
It's a wonderful thing creating and curating beautiful experiences for other people, but it's also A LOT of work. Effortless takes SO much effort, and without intention, it's easy to get exhausted and have nothing left for our own celebrations.
I always want to create for my clients from a place of inspiration, abundance, and ease, and this means being mindful to create beautiful experiences for myself too. Even if it's just the perfect cup of coffee!
So this year, sign me up for all the opportunities to connect, uplift, and encourage my fellow creatives, as we celebrate our unique talents and enjoy the beauty we create in community.
It's always such a pleasure to collaborate with Jessica from Art & Soul Events because she is so intentional, generous, and creative. I really enjoy collaborating with planners who appreciate my styling background and let me lean into the styling aspect of floral design. More is more, and I loved bringing the flower magic to everything from the bar cart to the cake.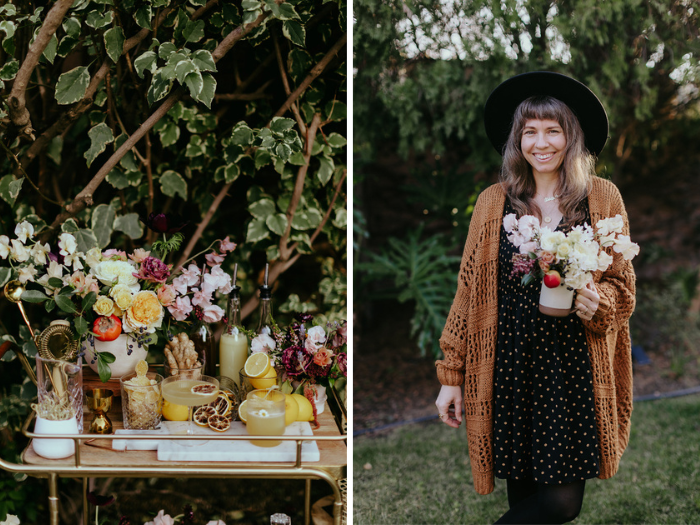 I brought plenty of lush local flowers from our neighboring flower farms & the Santa Monica Farmer's Market, as well as some beautiful Japanese Sweet Peas from Mayesh at the LA Flower Market. Fun fact: our studio is located just upstairs from Mayesh!
Sweet peas on speed dial FTW.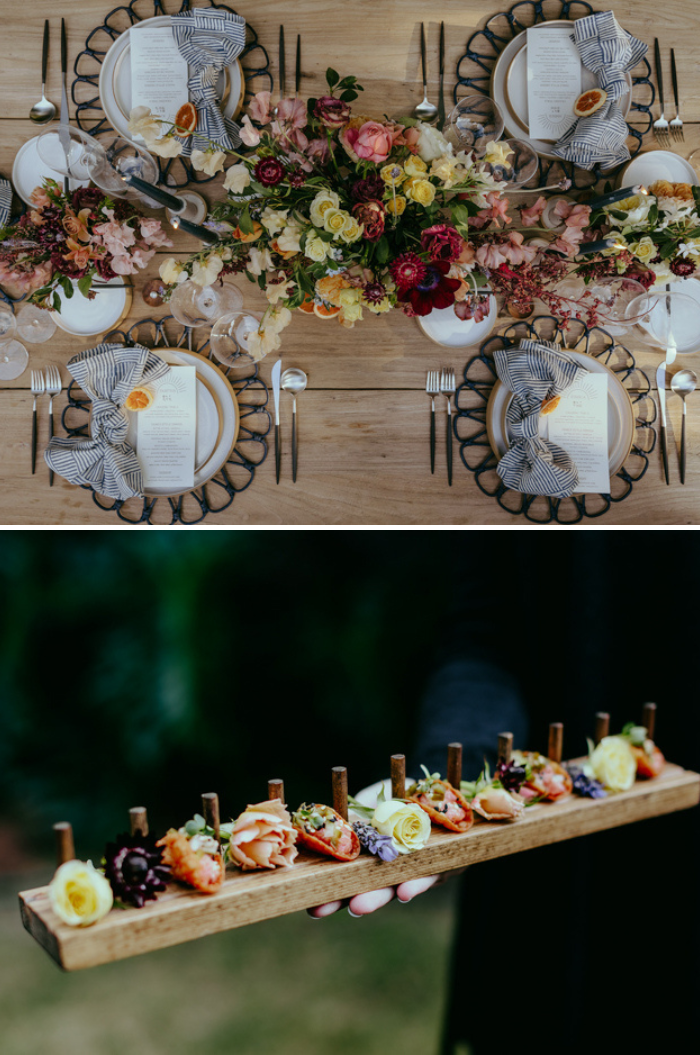 Gotta love a bird's eye view of some epic blooms! And it goes without saying that all of the food from Fundamental LA was both delicious AND beautiful, but I'm saying it anyhow.


This time of year brings out the best of the winter/spring florals for Los Angeles Florists, and so our table featured plenty of sweet peas, anemones, even garden roses! I loved creating this unique palette- both pastel AND moody, and used lots of shades and textures to add depth & drama to the design.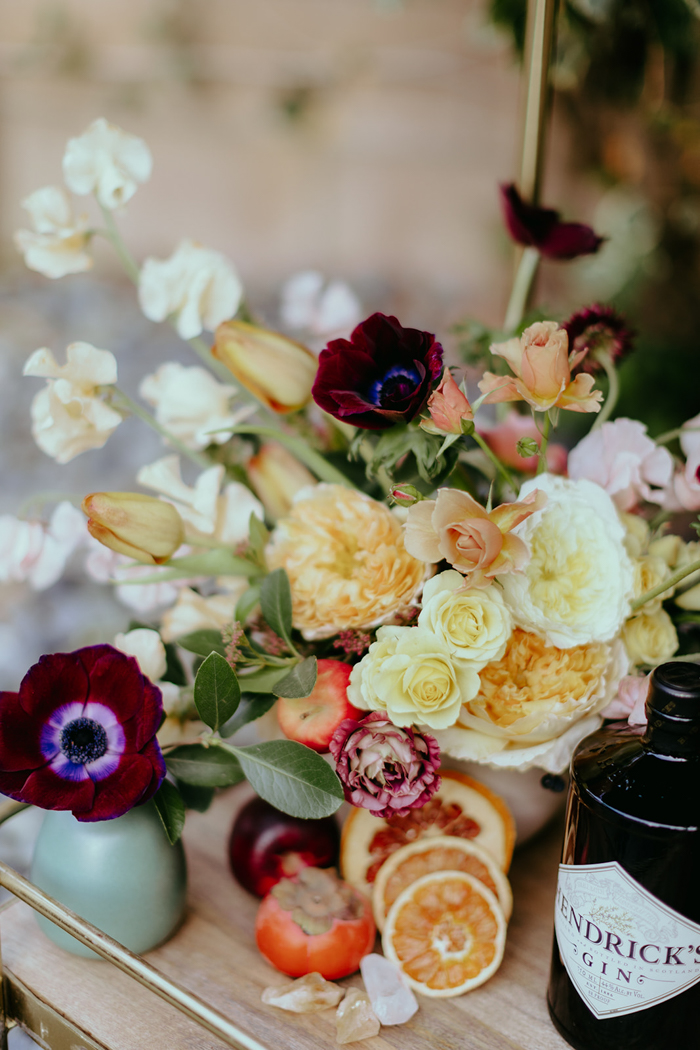 Sliced citrus, persimmons and crystals brought even more visual interest to the table and bar, and really help reflect the winter (and witchy!) season.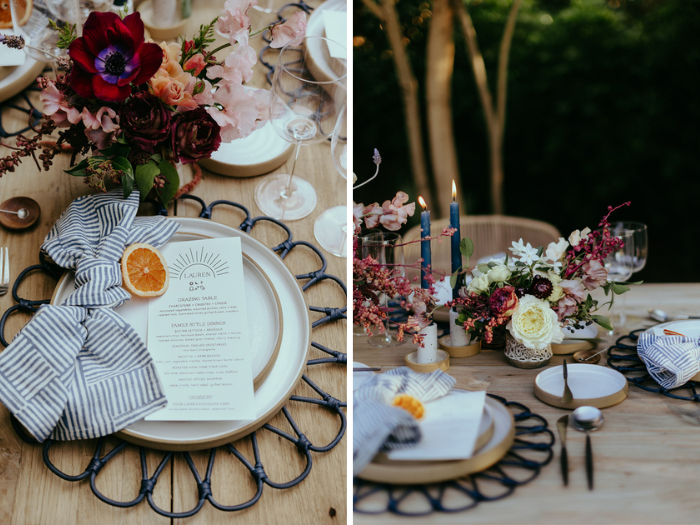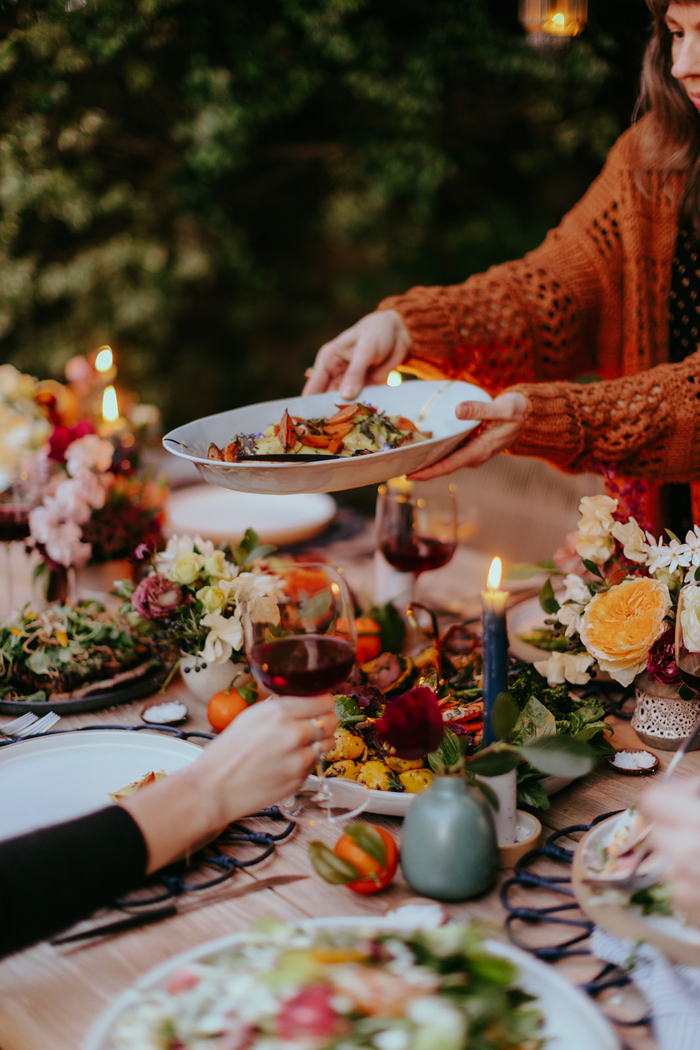 I'm honored to have had the opportunity to collaborate with my fellow creatives to create + enjoy this beautiful dinner party!
There's nothing I love more than a good dinner party (or marathon recipe) and so I'm looking forward to many more enchanted evenings cultivating community with my fave event pros, while we enjoy our own creations.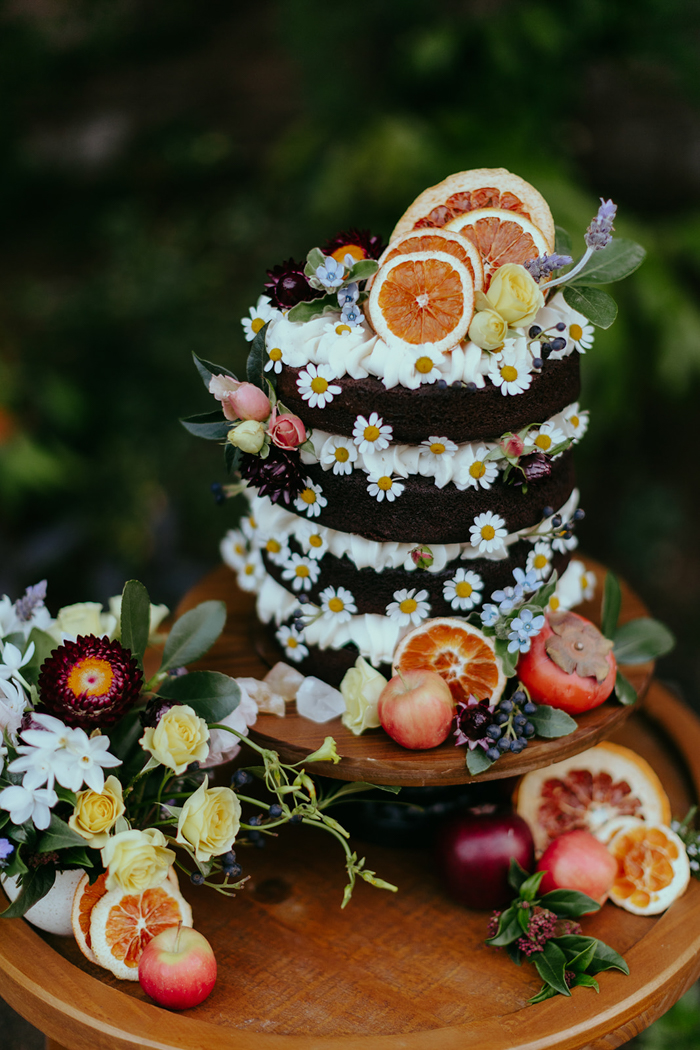 Can we have a moment for this perfect creation by my cake bestie Nicole Bakes Cakes?
It was a pleasure to flower, fruit, and crystal another one of her beautiful cakes, and even more fun to eat it!
If you've ever heard/thought/read that wedding cake can't be both a work of art AND ridiculously delicious, you need to get a cake from Nicole immediately.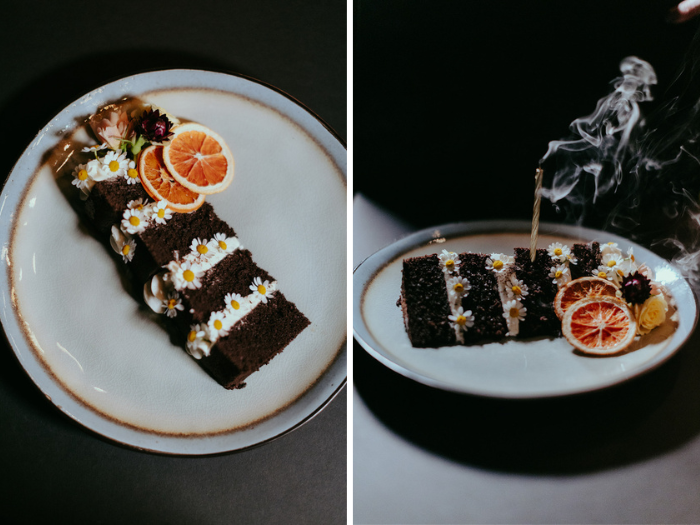 And finally, a little editorial cake styling FTW.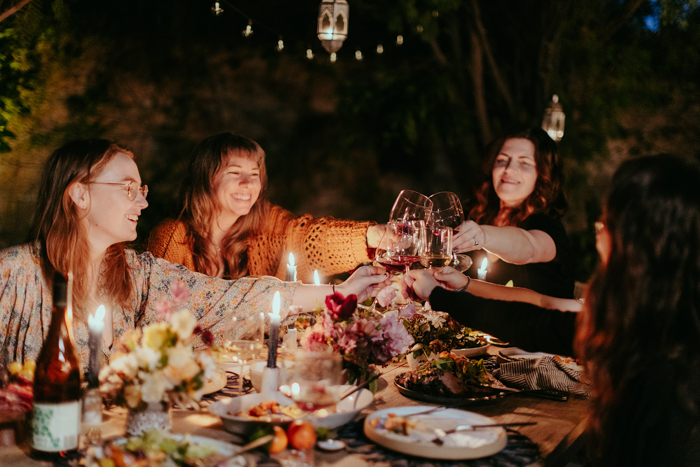 Here's to a beautiful 2023: More dinner parties. More connection. More flowers. More cake.
Planning + Design: Art & Soul Events // Photography: Amber Gress // Catering & Cocktails: Fundamental Events // Floral Design: Winston & Main // Pastry Chef: Nicole Bakes Cakes //  Tabletop Rentals: Casa de Perrin // Menus: Roseville Designs // Natural Wine: Buvons // Napkins: World Market
To see more of our floral designs, head to our portfolio.