Tracy & Zak's wedding at The Ebell of Los Angeles was bold, moody, bright and dripping with style (and flowers)! Aren't they perfection?
A moment of silence for this ceremony design please. Our signature floral palette- full of jewel tones, moody hues and pops of peony (that's a color right?) was a perfect fit with their retro-modern style.
This is a classic wedding arch, reimagined to bring the drama, color, and luxury- exploding with pink peonies, red garden roses, phalaenopsis orchid, dripping amaranthus and more. More is always more, and we LOVE a large scale floral installation here at Winston and Main.
Jason Q Tran captured this perfect bridal bouquet portrait, and when it landed in my inbox, my jaw dropped. There *might* have been tears.
It is truly one of my favorite photos of any of my floral designs. Ever. It definitely puts the "fine art" in fine art florals and makes my heart so happy- the perfect Dutch Master's painting!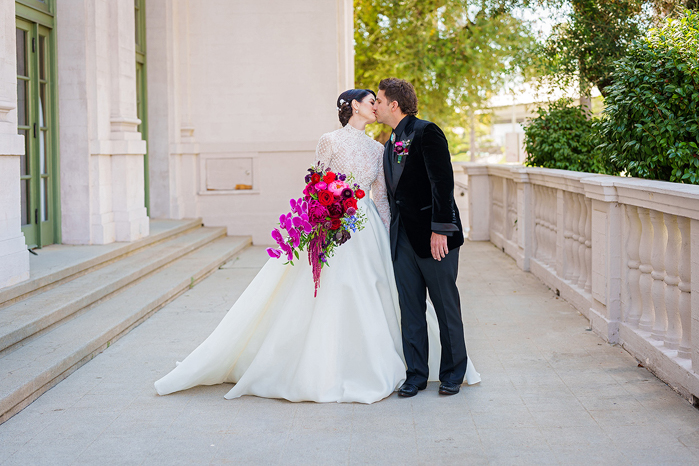 These bold and moody jewel tones are a VIBE, and the more we create with them, the more they get requested.
Create the work that makes your heart happy friends- I guarantee there are others out there who will resonate with what you do, and then you'll get to do more (and better) of what you love.
I am always so grateful for our wonderful clients and all the beauty their trust, vision and collaboration makes possible.
This large-scale floral installation on the stairs at The Ebell was such a showstopper, and made for some amazing and bold aisle flowers. Talk about a grand entrance- this installation was the first thing guests saw when they entered the wedding ceremony space, and also made for a dramatic walk down the aisle.
I always recommend a few larger WOW floral moments, over lots of tiny flowers everywhere. Make a statement, and include a staircase installation whenever possible- so many options, and SO many beautiful flowers. And then on the welcome table? Even more bold, lush, and dramatic jewel toned blooms.
Tracy's colorful modern cascade bouquet is one of the most unique I've ever designed, and I LOVE how it turned out and how perfect it was for her. Vintage Hollywood glamour!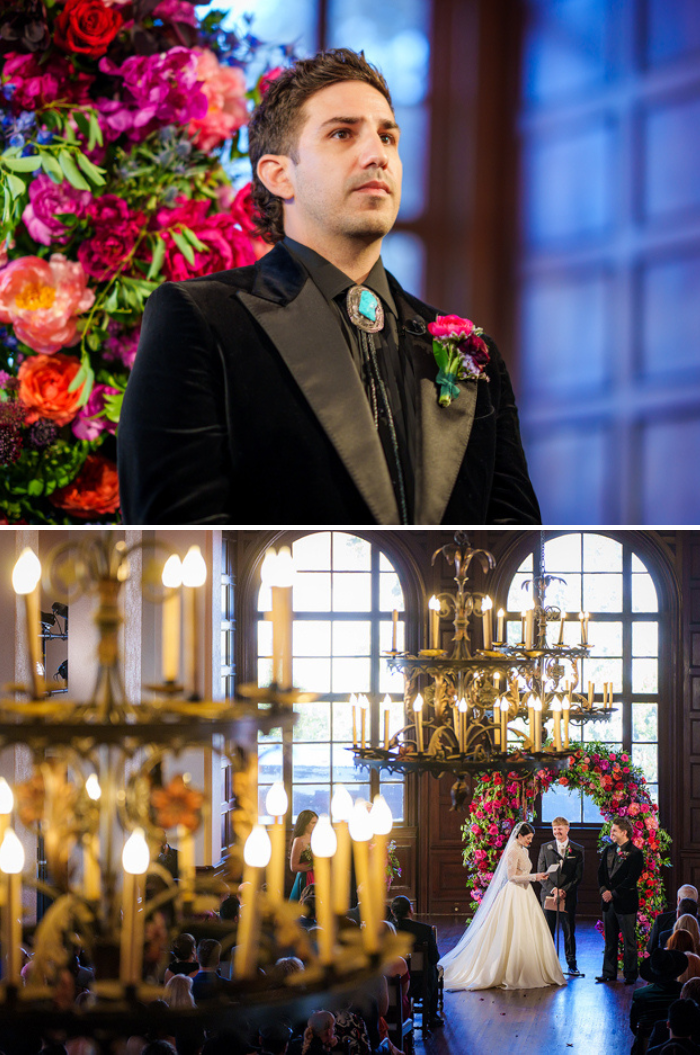 The Ebell of Los Angeles is full of unique historic details and dark wood, which makes it the perfect backdrop for bright, bold, and dramatic floral designs.
It's always so fun to get photos back and check out all the different wedding day perspectives- Zak waiting for Tracy to walk down the aisle with a wall of gorgeous blooms behind him? Amazing. And that bolo? Best groom style ever!
I also love how this  ceremony shot through the historic chandeliers lets you see the scale of our ceremony arch, and shows off how we mirrored the beautiful arched windows behind it.
This is always one of my favorite photos- that just married JOY is the best! And JOY surrounded by beautiful wedding flowers- even better.
The ceremony flowers repurposed to the sweetheart table is ALWAYS the move. Dinner + reception photos surrounded by the entire dark & dramatic garden FTW.
And check  out these elevated foam-free centerpieces- they're dripping with jewel-toned orchids, dahlias, roses, delphinium, amaranthus, and smilax and elevated on a gold Harlow stand.
I promise you can ditch the foam and deliver more sustainable luxury- your clients, the earth, and your flowers will thank you!
Hello, dahlia!
Bold, bright, moody and unexpected jewel-toned wedding flowers really shine in The Ebell's reception space.
Mic drop for this five-tier beauty of a wedding cake Flouring LA. Wow. Wow. Wow. What a dream to add cake flowers to this beauty.
Serving up cake, joy and sweetness.
How much do you love that solo first dance shot?

The hanging floral installations on the chandeliers, dripping with smilax and orchids, the lush jewel-toned centerpieces, the photo booth sparkles, the stylish couple- pure magic. Seeing everything come together so beautifully on an event day is truly like magic and we are so thrilled to be a part of it every time!
And that Hora + Tracy's wardrobe change? EPIC.
For another wedding from The Ebell of Los Angeles, check out Dian and Kenny's Modern and Polished Wedding.
Wedding Planner: Heartthrob Weddings // Photography: Jason Q Tran // Entertainment: Mirmir // Floral Design: Winston & Main // Cake: Flouring //  Singing: Anthony Starble // Photo Booth: Lucky Photo Booth // DJ: Dart Collective // Rentals: Archive Rentals // Rentals: Signature Party Rentals // Stationery: Prim & Pixie // Venue: The Ebell of Los Angeles