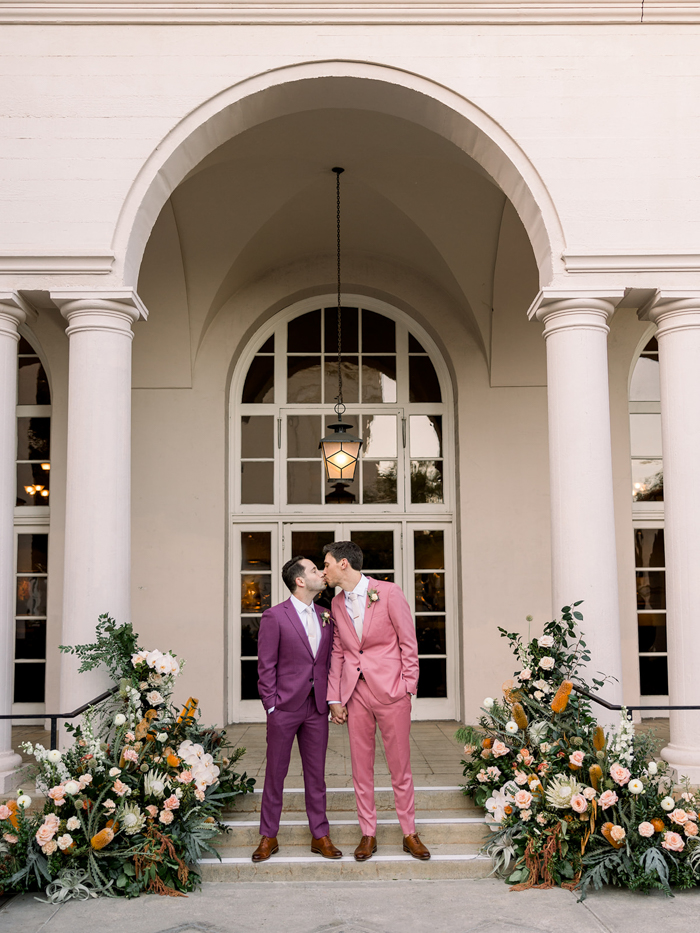 Our inspiration for Jordan & Kyle's floral design was classic California with a citrus twist – aka where the desert meets the orange grove.
We leaned into bold floral choices, organic garden style blooms, and both textural and tropical accents in a sunset sherbet palette of blush, peach, coral, and orange to bring this large scale floral installation to life on the steps of our favorite historic venue, The Ebell of Los Angeles.
You can see it right? It's a modern desert chic + citrus mashup…and it's magical, and magically captured by the oh-so-talented Brett Loie Photography.
There was also a *very* special guest of honor…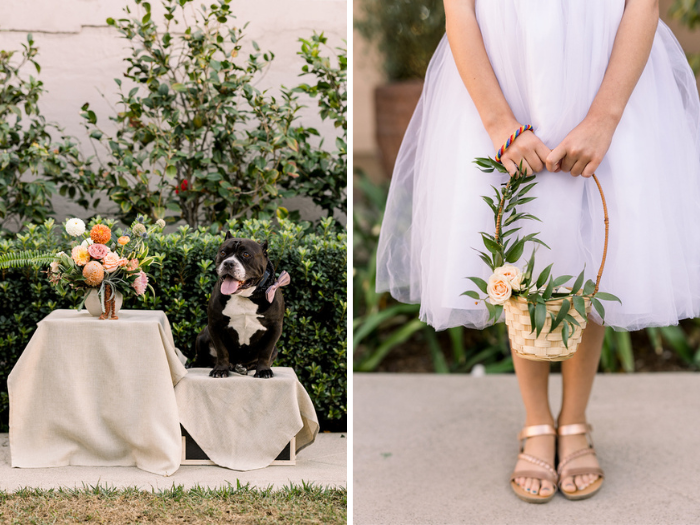 Meet Kyle & Jordan's dog, Blackjack! Naturally, he was the star of the wedding, and had the best seat in the house (see below) to watch his dads get married! This sweet pup came with his own entourage, posed with our blooms, ran down the aisle to his dads, and observed the entire ceremony from the comfort of his dog bed.
WE love love love a wedding pet and Blackjack did not disappoint. He was also a huge hit with the flower child, who carried this adorable floral accented basket of petals.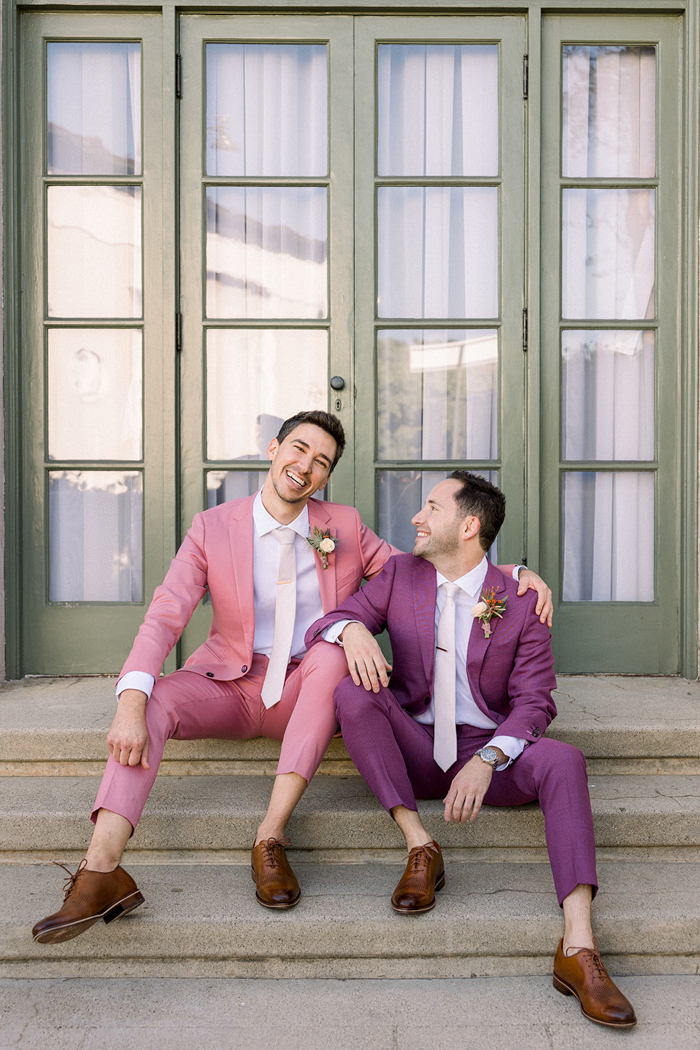 These cuties!  😍
The Ceremony Floral Installation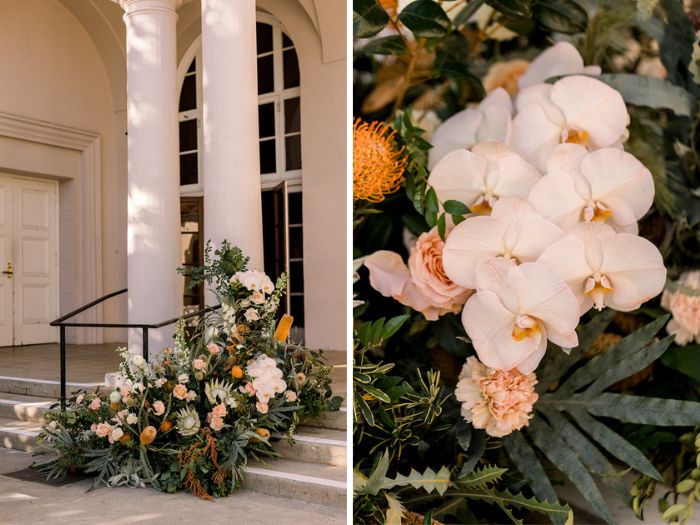 We love to create large scale and site specific installations, and The Ebell of Los Angeles has so many great areas to do that! I don't think we'll ever run out of ways to create completely unique ceremony designs here.
For this floral installation on the stairs outside the art salon, we used a wild and organic mix of King Protea, Banksia, Air Plants, Orchids, Dahlias, Scabiosa, Amaranthus, Garden Rose and more! It was lush, textural, and dripping with blooms on either side of the veranda where Kyle & Jordan wed. This detail shot from the ceremony installation is a forever favorite- all the texture, the fluff, that phalaenopsis orchid.  😍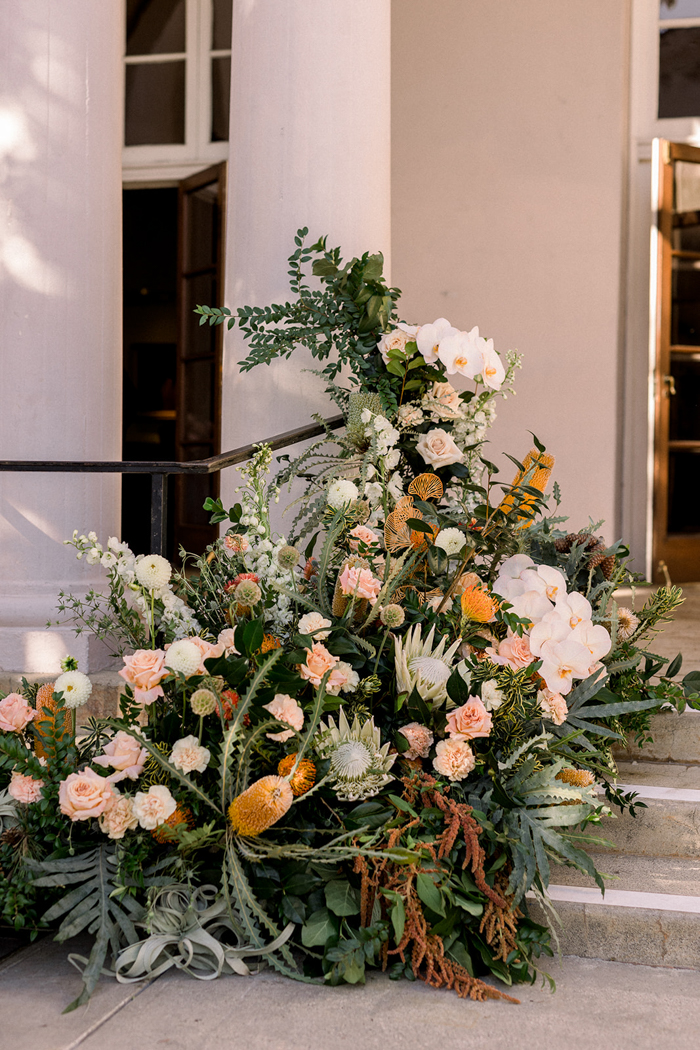 We always recommend that you create a few high impact or experiential floral experiences for your guests, instead of spreading your flowers (and budget) all over the place.  No one will remember bud vases in the bathroom, but this installation? And wedding pet superstar Blackjack? Core memories unlocked for sure!
Wedding Party Details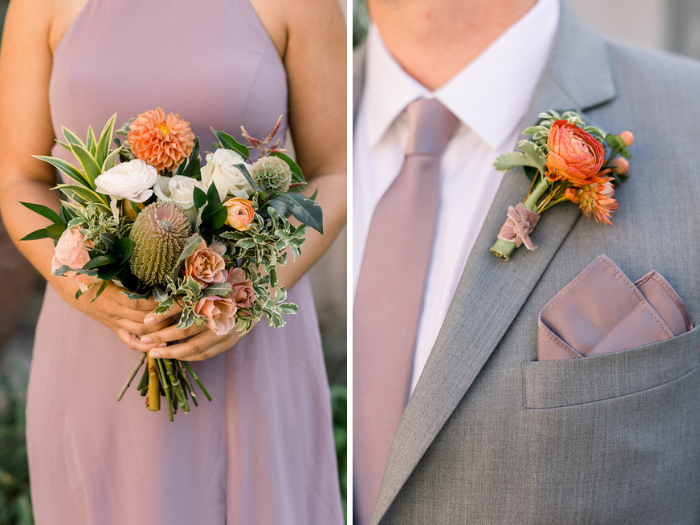 Back to the details! Personal flowers were so fun on this one- the wedding party bouquets were lush and organic and featured textural banksia and scabiosa combined with fluffy garden roses, ranunculus, and dahlias. The bouts were each a little different, and featured either a ranunculus or rose with textural accents in shades of blush, peach, coral, and orange. We love how the sunset palette really stood out against the dusty lilac dress/tie/pocket square.
And we reeeeeally lucked out with all the dahlias for this fabulous floral flatlay in late October! Aren't they just every shade of perfection?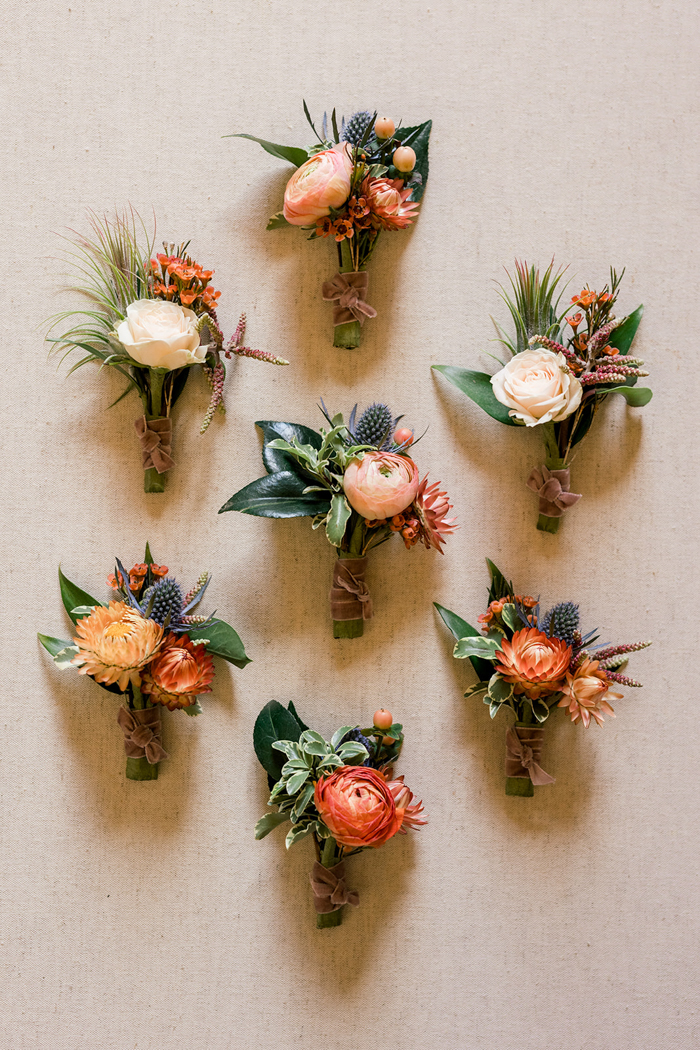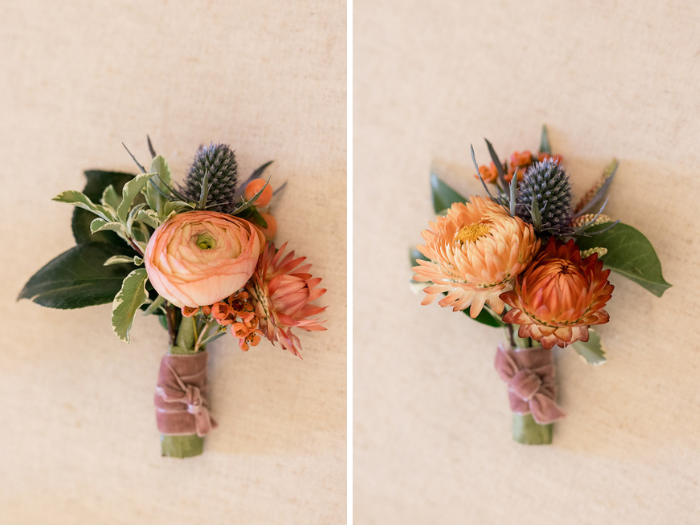 These are some of my favorite Winston & Main boutonnieres ever! They're full of so much texture & whimsy in our very satisfying citrus palette with unique accents like air plants and thistle.
Ceremony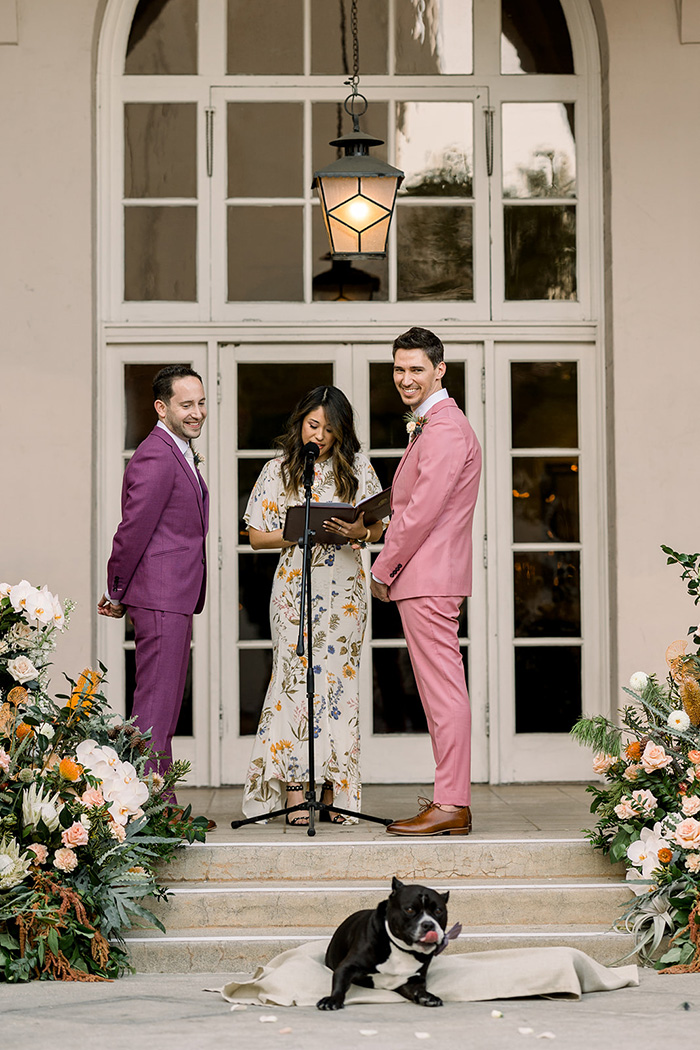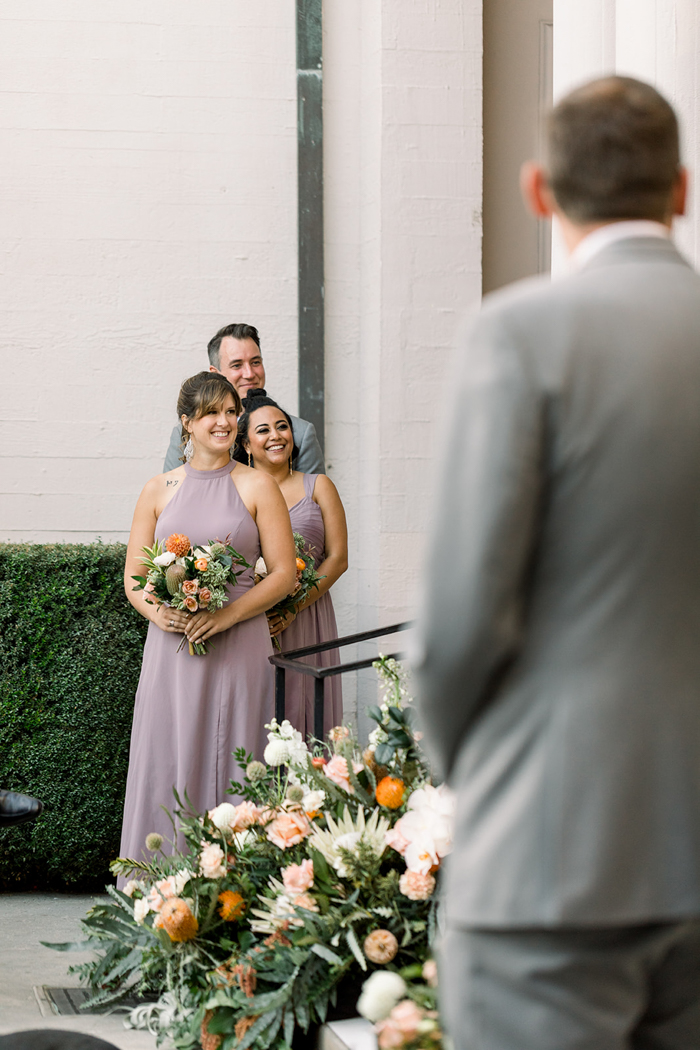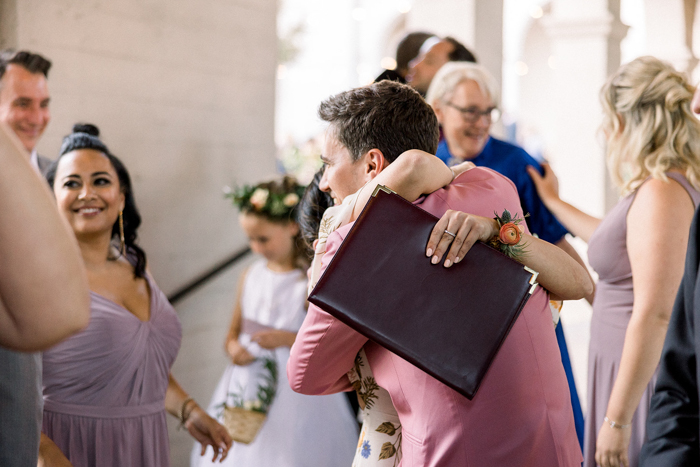 I love watching our clients surrounded by so much joy and community on their wedding days. It's magical every single time!
And y'all know this is always my favorite wedding shot… but with Blackjack? And our huge floral installation? Next level joy and happiness right here!
Cocktail Hour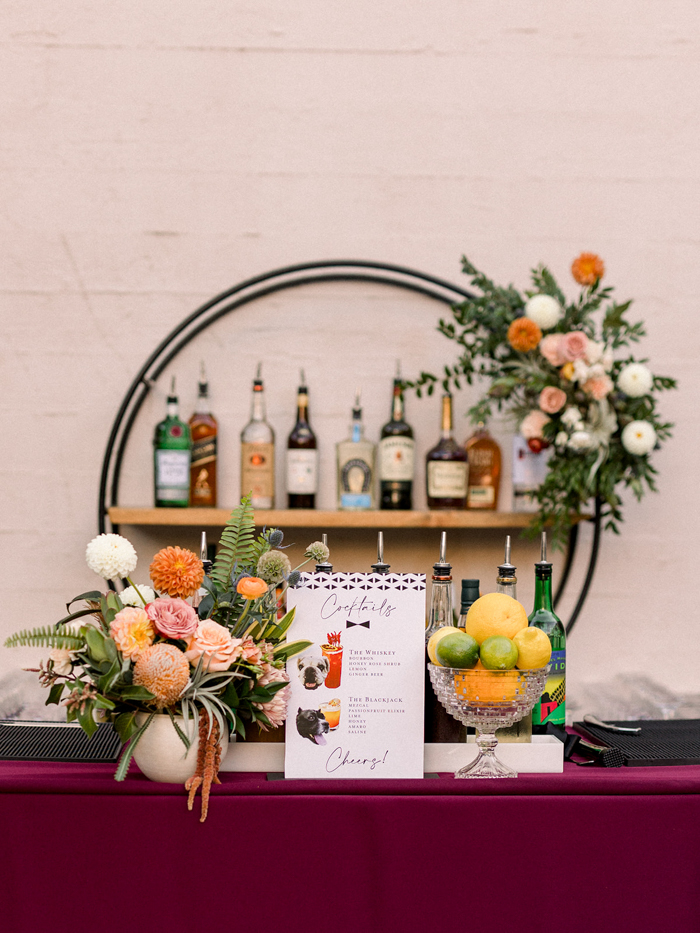 The perfect bar florals do exist. And how cute is this custom cocktail bar sign by the talented Simply Stated Stationery?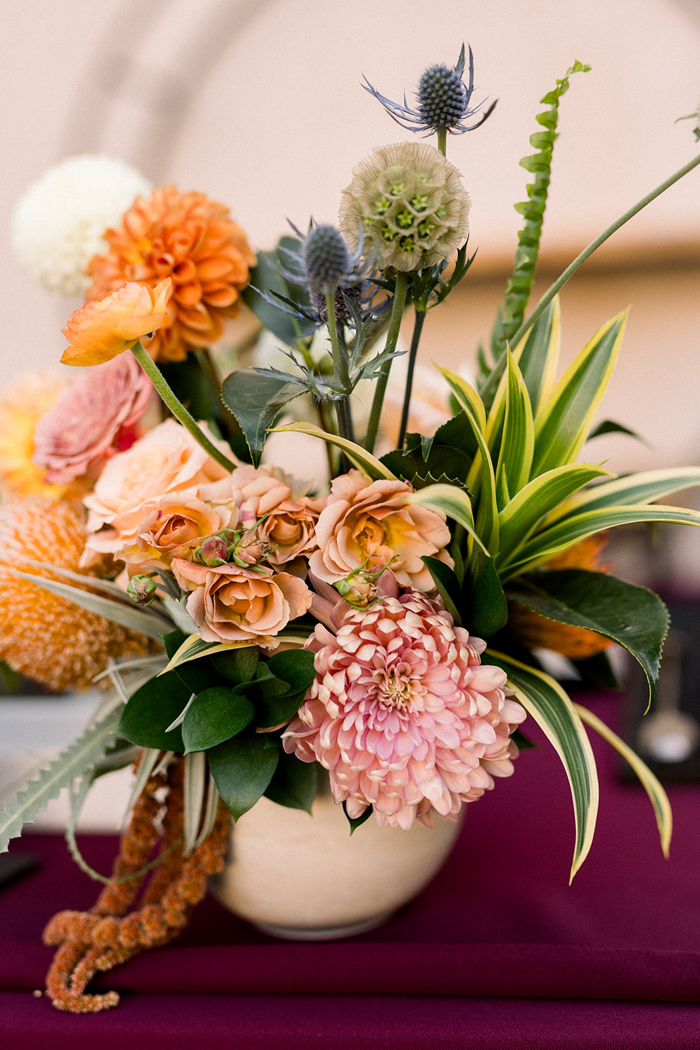 A wild and whimsical signature Winston & Main centerpiece- fully of texture, whimsy, and unexpected elements and accents.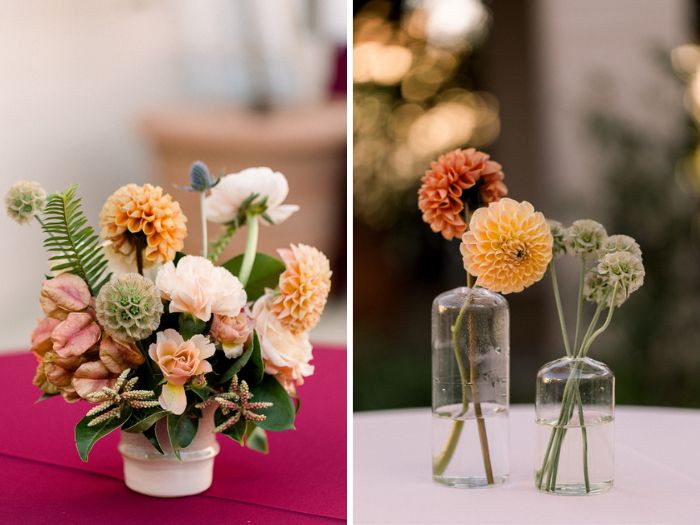 We love these cute cocktail arrangements + simple bud vases full of mono blooms for cocktail hour. Here we used dahlias in shades of peach and burnt orange, and scabiosa pods, raintree pods, and sumac for a textural moment.
Reception
Jordan & Kyle's California fall wedding at The Ebell of Los Angeles had gorgeous floral centerpieces that included a sunset-inspired color palette in shades of blush, peach, coral and orange.
The reception featured a mix of round and long tables, a lush head table installation, and a gorgeous four-tiered cake from The Butter End that we adorned with fresh florals.
Tables were styled with fresh citrus fruit, air plants, and acrylic table numbers named for the couples favorite TV shows.
Drama? Done and done.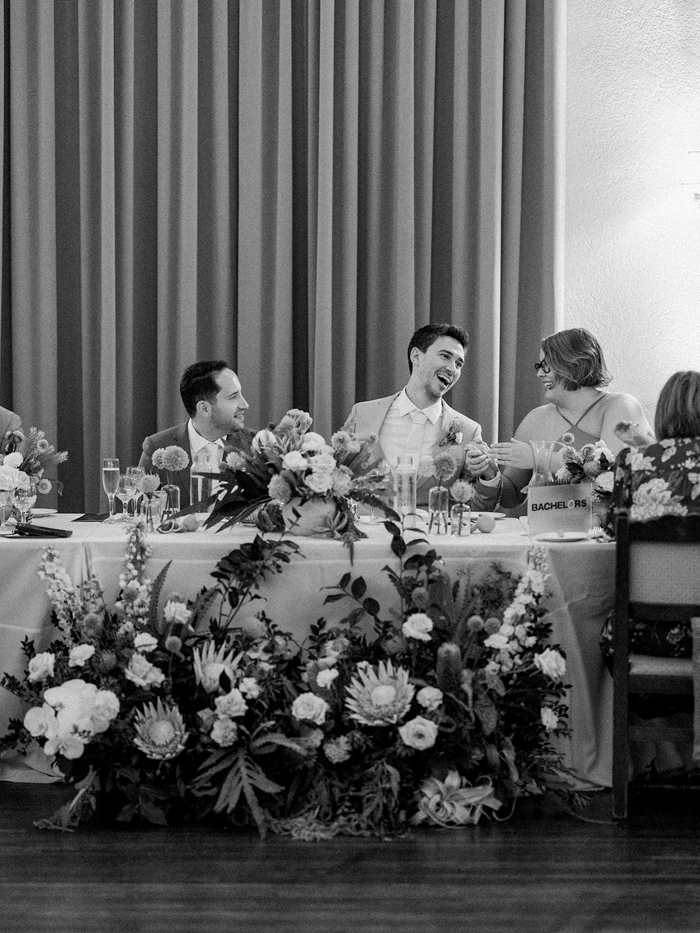 We love creating experiential and immersive floral environments for our clients to celebrate surrounded by flowers.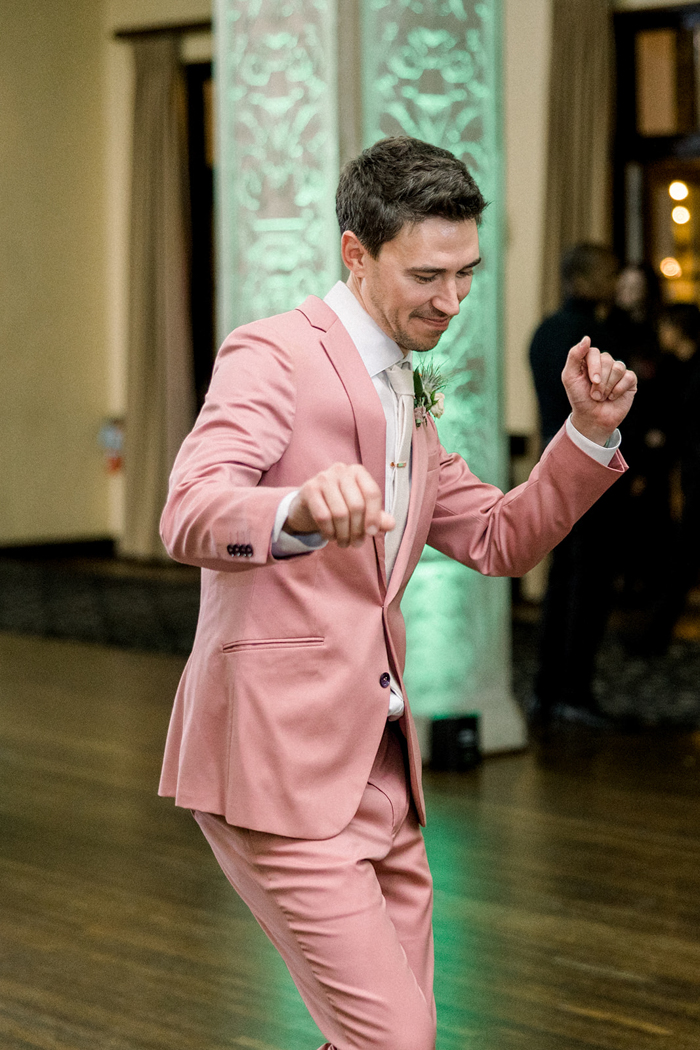 To let loose.
And to savour. Preferably with a beautifully garnished citrus cocktail.
Can't really think of better late night snacks than Big Dix Hot Dogs & The Pie Hole. 😍
Huge congrats Kyle & Jordan! We were so honored to bring the flower magic to your citrus, sunset, and desert inspired wedding at The Ebell of Los Angeles!
And big thanks to Katie of Best Day Ever LA for bringing us on, and bringing ALL the amazing detail magic + fun too!   Can't wait for the next one! 
ps. Give Blackjack a few scritches for us!
For more whimsical, bold, and colorful wedding floral inspiration be sure to visit this spring flower dream we created for Nora and Dan!
Venue: The Ebell of Los Angeles / Planning & Design: Best Day Ever LA / Videography: Alternative Standard / Photography: Brett Loie / Floral Design: Winston & Main / DJ: Red Shoe LA / Rentals: Archive Rentals / Photobooth: Pixster Photo Booth / Dog Trainer: No Bull Rehab / Signage: Simply Stated / Cake: The Butter End / Late Night Snacks: Big Dix Hot Dog & The Pie Hole LA / Hair & Makeup: Armando Sarabia