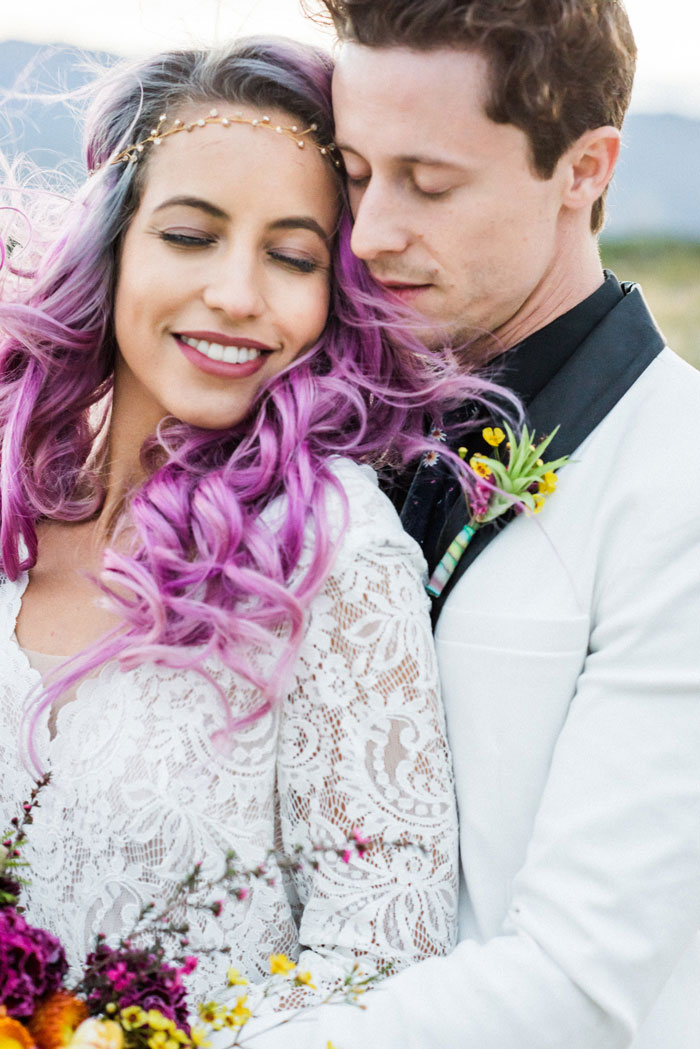 Inspired by this year's desert wildflower super bloom, and my longtime love of Gram Parsons, I gathered a few super talented vendors, and one fabulous couple, and we headed out to Anza Borrego for a desert elopement styled shoot. It's 3.5 hours away from LA you guys, and it was SO. WORTH. IT.
A little country, a little rock n' roll, and a whole lot of color.
Featuring brilliant blooms, a desert tabletop for two, flower-filled cocktails, a rock-candy cake, a guitar strumming groom, and a sweet barefoot first dance in the desert, this shoot is loaded with fun inspiration for any of you planning your own desert weddings.

Oh! And I almost forgot to mention the custom embroidered denim jacket (a Gram Parson's lyric of course!)
Check out a few of my favorites below:

Desert Wedding Photography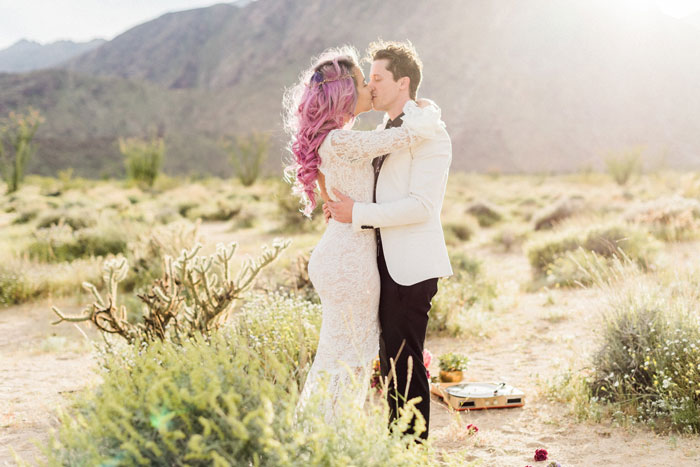 Julie Shuford captured the love (hubba! hubba!) and the light so beautifully for our shoot. She's super talented AND a total joy to be around, which is so important, because after your partner, your wedding photographer is the person you will be spending the most time with on your wedding day. Hire this woman!


The Ultimate Boho Wedding Dress



The moment I saw that lace and THOSE sleeves, I knew this was the dress for our shoot. This absolute stunner is from The Blushing Bird, and there's more where she came from! I also love the simple, but no less showstopping accessories- these dainty earrings and headpiece pack just the right amount of sparkly punch.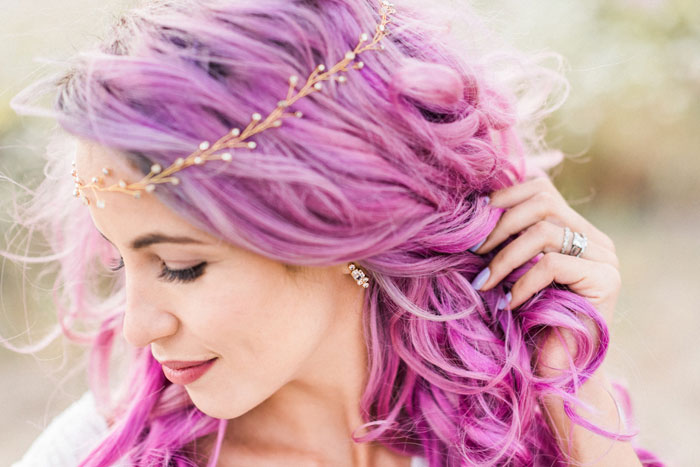 The Desert Bridal Bouquet


You guys- I love this bouquet SO much, I had this picture framed for my studio. The variety of blooms- lush peonies, tropical protea, tiny desert wildflowers, and yes, even carnations… this bouquet just gets me.




Also, carnations are back y'all. Just thought you should know.

The Rock and Roll Wedding Cake



This shoot came together pretty last minute, so I was floored by this behemoth that Tamara of Mwokaji Cakery busted out for our shoot. She's such an amazing (cake) artist! Also you guys- driving 3.5 hours with a massive cake in your car is SO nerve wracking, and gave me a newfound respect for bakers (and their delivery peeps) everywhere. And I thought a car full of flowers was bad!

The Floral Cocktail



Put a flower on it. And in it. Done and done.

The Desert Sweetheart Table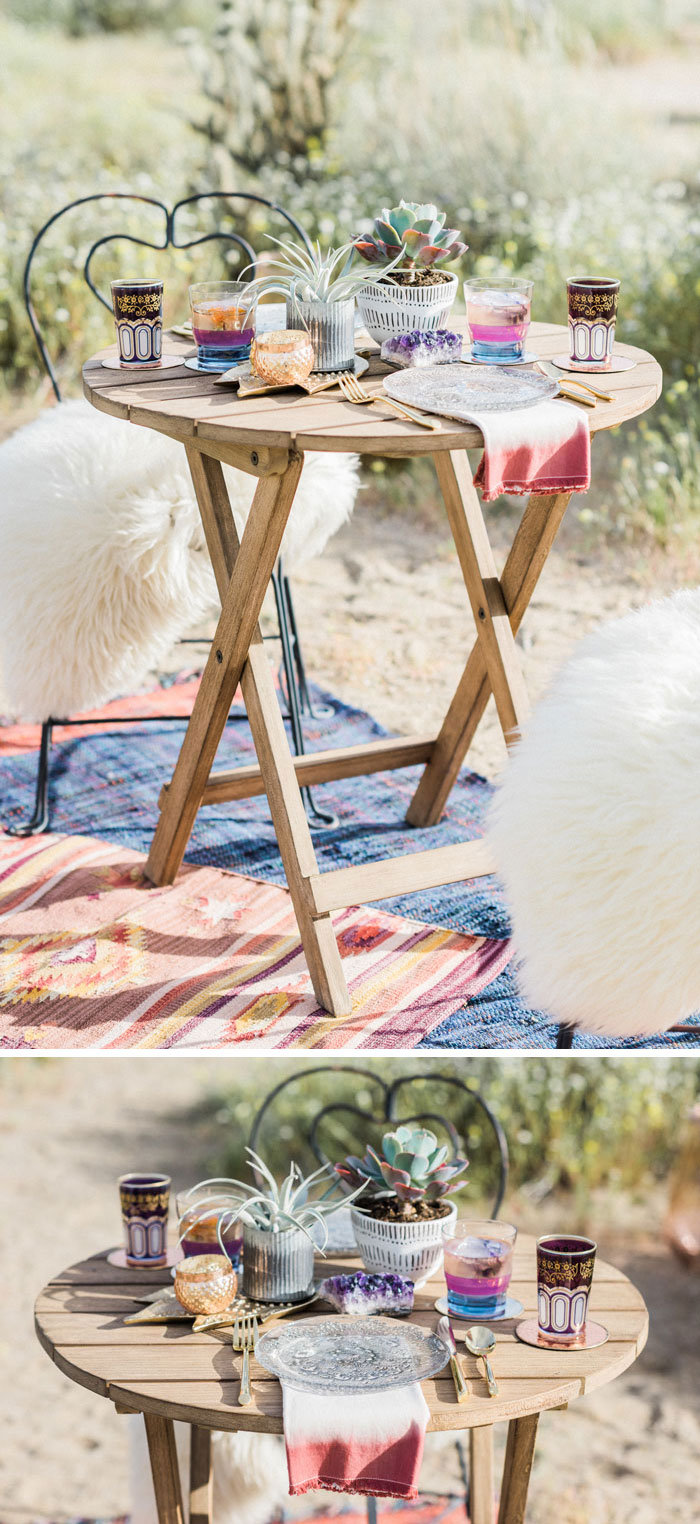 I took inspiration from cotton-candy-pink-melting-into-lavender sunsets, my model's amazing unicorn hair, my father in-law's goldenrod corvette, and of course GP himself! Then I raided my prop closet and did a little shopping. How perfect are these sunset cocktail glasses from Anthropologie?


The First Dance



Sorry if you're one of those people who can't stand the sight of bare feet!



Our Couple



Yep, they really are that cute.
Ravayna & David are the real deal, and I consider myself lucky to call them friends.

The Custom Bridal Jacket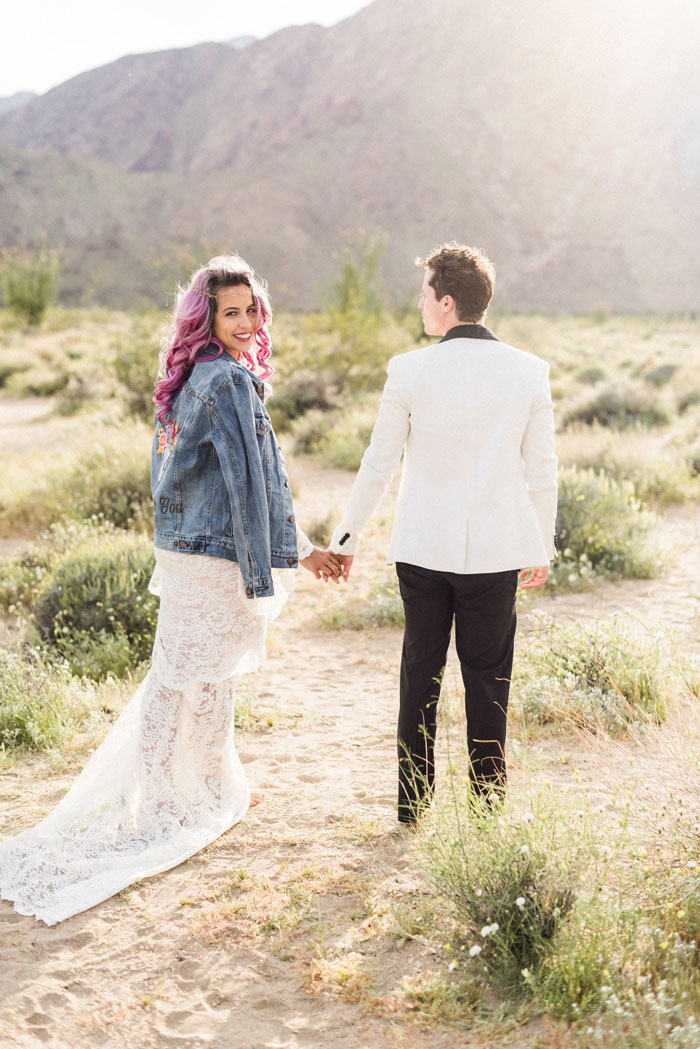 …that started it all.

Because you really can base an entire shoot (ahem, wedding) off one amazing piece.




This classic Levi's jacket was embroidered with love by my pals over at Ink & Thread.
They are THE BEST.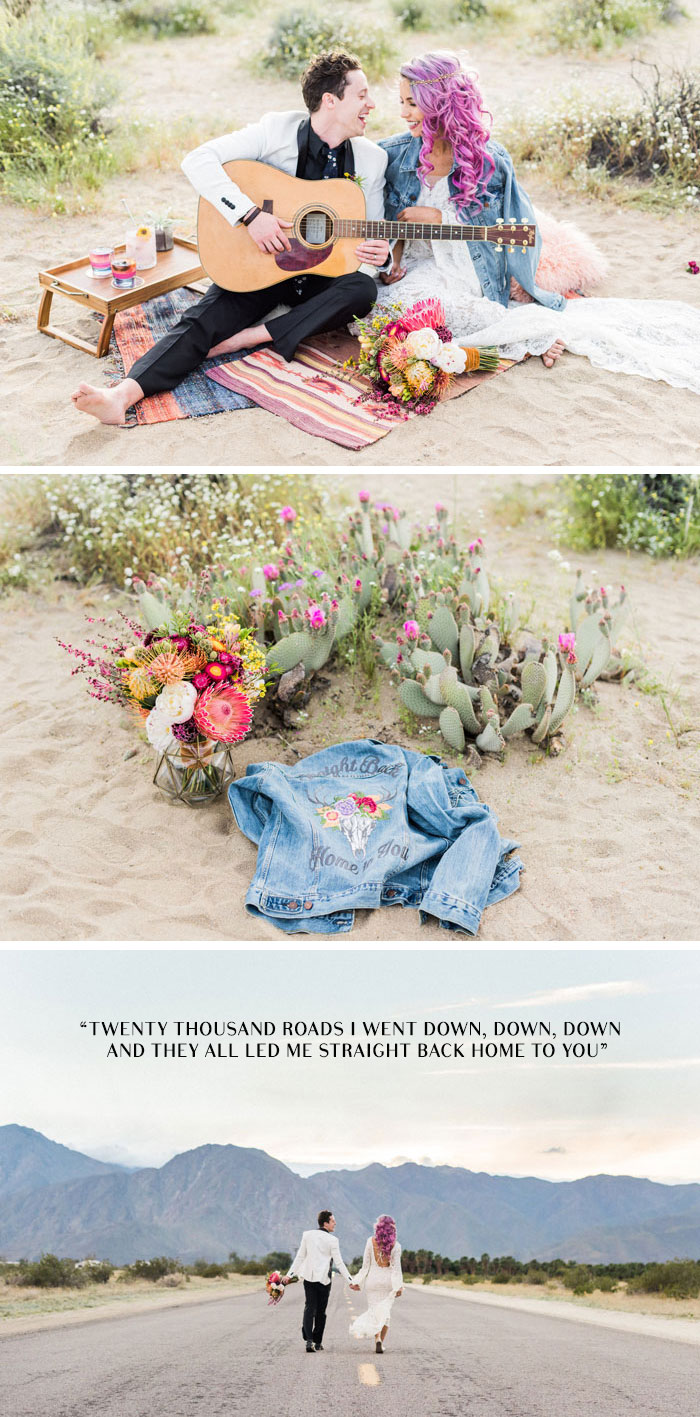 Check out our feature on Green Wedding Shoes for even more inspiration and check back later this week to talk inspiration and cocktails.


Venue: Anza Borrego Desert State Park / Event & Floral Design + Planning: Winston & Main / Photography: Julie Shuford Photography / Dress + Accessories: The Blushing Bird / Cake: Mwokaji Cakery / Embroidery: Ink & Thread LA / Models: Ravayna & David Coe