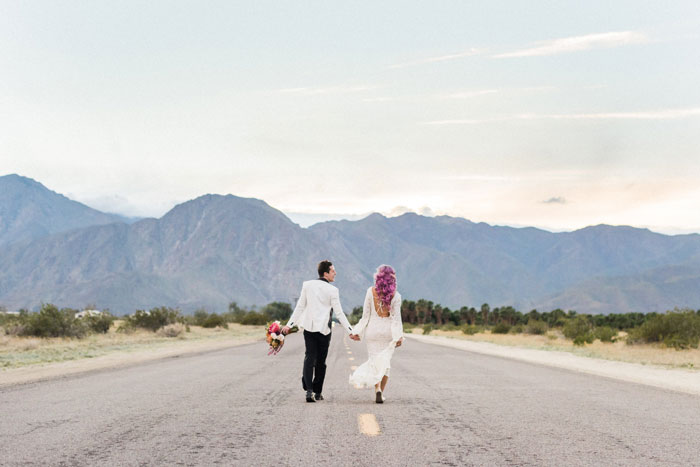 Did you catch our Cosmic Bloom Desert Wildflower Elopement Shoot earlier this week? It's a dreamy one. You can check out our feature over on Green Wedding Shoes (eeeeek!) and peep a bunch more photos here and here.
Then come back so we can chat a little about the process of going from threemillionamazingideas, to concrete designs, to a magical day, to final photos, mkay?
My coffee and I will be right here waiting…
My Design Process in a Nutshell
This is the process I use to turn my clients (and my own) sometimes disparate ideas and inspirations, into complete, cohesive, and beautifully realized designs + events. So whether you're a newly engaged couple, a fellow wedding professional, or a DIY Wedding Warrior, this will work for you too. Try it out and let me know what you think!
1. Ask the Question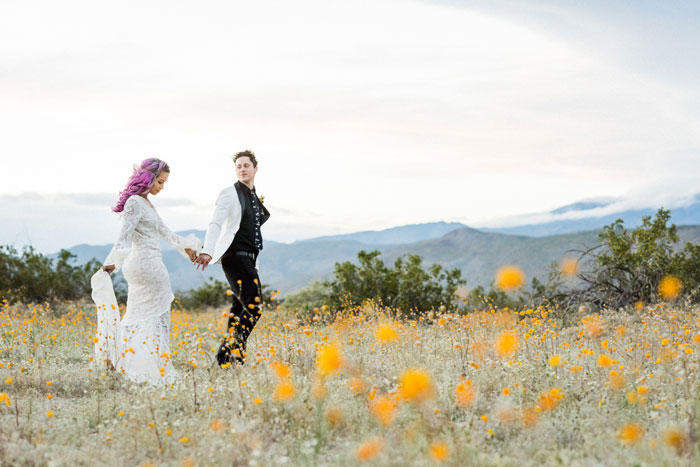 How do you want your event to feel?
Ask yourself this question first. Write down your answer and refer to it often.
Trust me on this one, your answer will inform the rest of your decisions.
Great events tell great stories. Great stories give you all the feels.
The question is definitely NOT about how you want your event to look.
I wanted our shoot to feel like a sun-drenched bohemian adventure,
full of magic, color and whimsy.
 
2. Be A Greedy Squirrel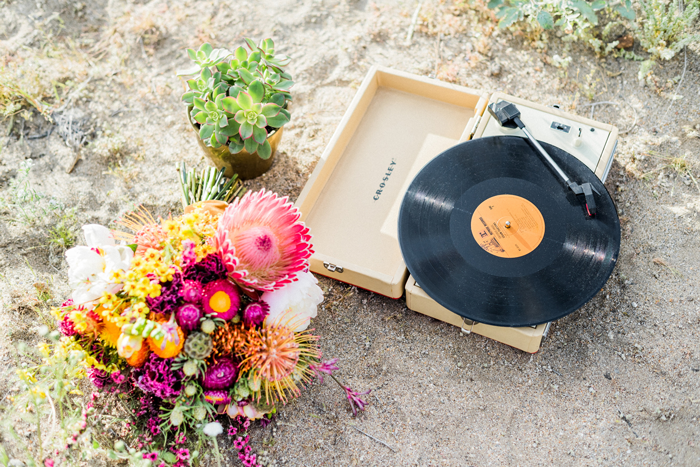 Pinterest. The Library. Museums. Magazines. A dog walk. A good book.
 
Inspiration is everywhere, so gather it all up like the greedy little squirrel you are.
Pin it all. Jot it down. If it gives you the feels, gobble it up. For now. Don't bother to edit.
BUT
Set a Time Limit.
aka. Once your mouth is full you have to stop. (is this analogy still working?)
*If you've just gotten engaged, maybe it's a month to soak up all the inspiration and champagne.
*If it's a party in a couple months, maybe you give yourself a week.
*If it's a styled shoot in a week or two, maybe you give yourself a day, or even just a couple of hours.
My squirrel phase looked a bit like this:
NPR won't shut up about this desert super bloom – maybe it's worth the drive to see – maybe if we drive all the way out there we should do a desert photo shoot – the desert got me thinking about gram parsons – gram parsons got me thinking about 70's vibes – my father-in-law has a badass 70's corvette – so maybe a desert elopement with that car – damn Ravayna's hair would match all those purple desert flowers – oh! wouldn't a first dance with a portable record player be sweet – hey! I have a portable record player…

And so on…
And of course the whole time what I'm actually doing is pinning/making lists of anything and everything that feels sun-drenched, bohemian, magical, whimsical, colorful, or adventurous. If it was an indoor shoot, I would have definitely considered some neon elements as well, but we had enough and more color already which was perfect!
 
3. Obey the Rule of Three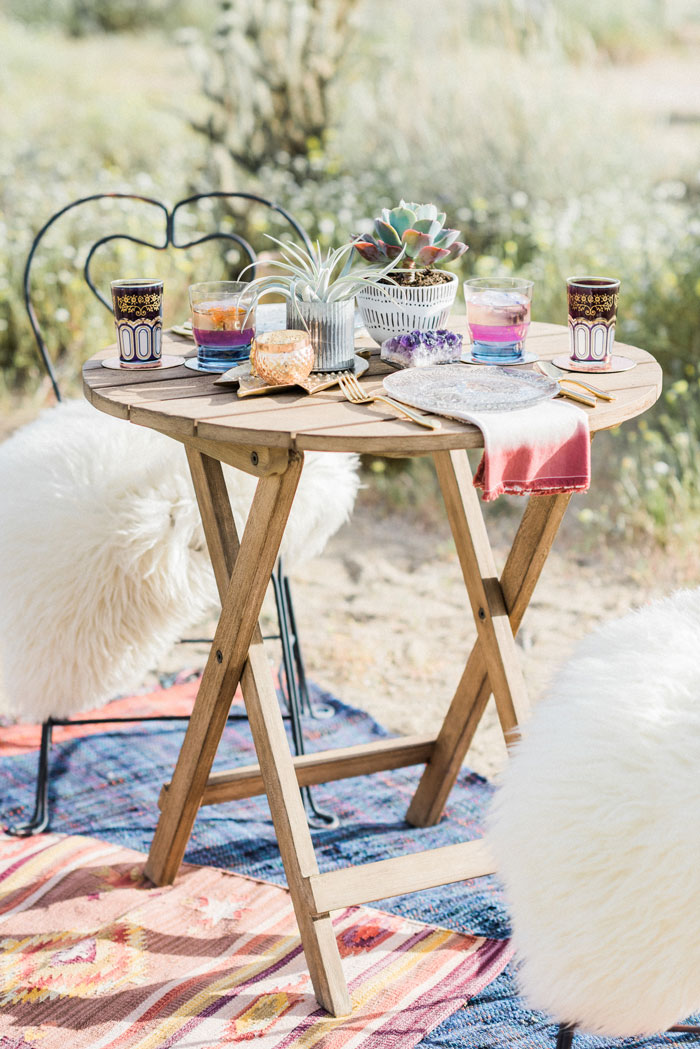 Look over all that beautiful inspiration (more like random pins and chicken scratch at this point) and pick out three things you gravitate towards over and over. A certain color. A pattern. A type of flower. Do you only pin brides in short lace dresses? (asking for a friend)
Pay attention to your own ideas.
And pick your three elements.
This is where the magic happens: the three elements you chose, that gave you all the feels, are unique to you. (or your couple, if you're a designer/planner) and they'll help you tell your personal + original story.
The Rule of Three is simple: primarily focus on and repeat these three elements throughout your design.
My three for our shoot were purple sunsets, eclectic props, and 70's rock 'n' roll.
 
4. Make your Mood Board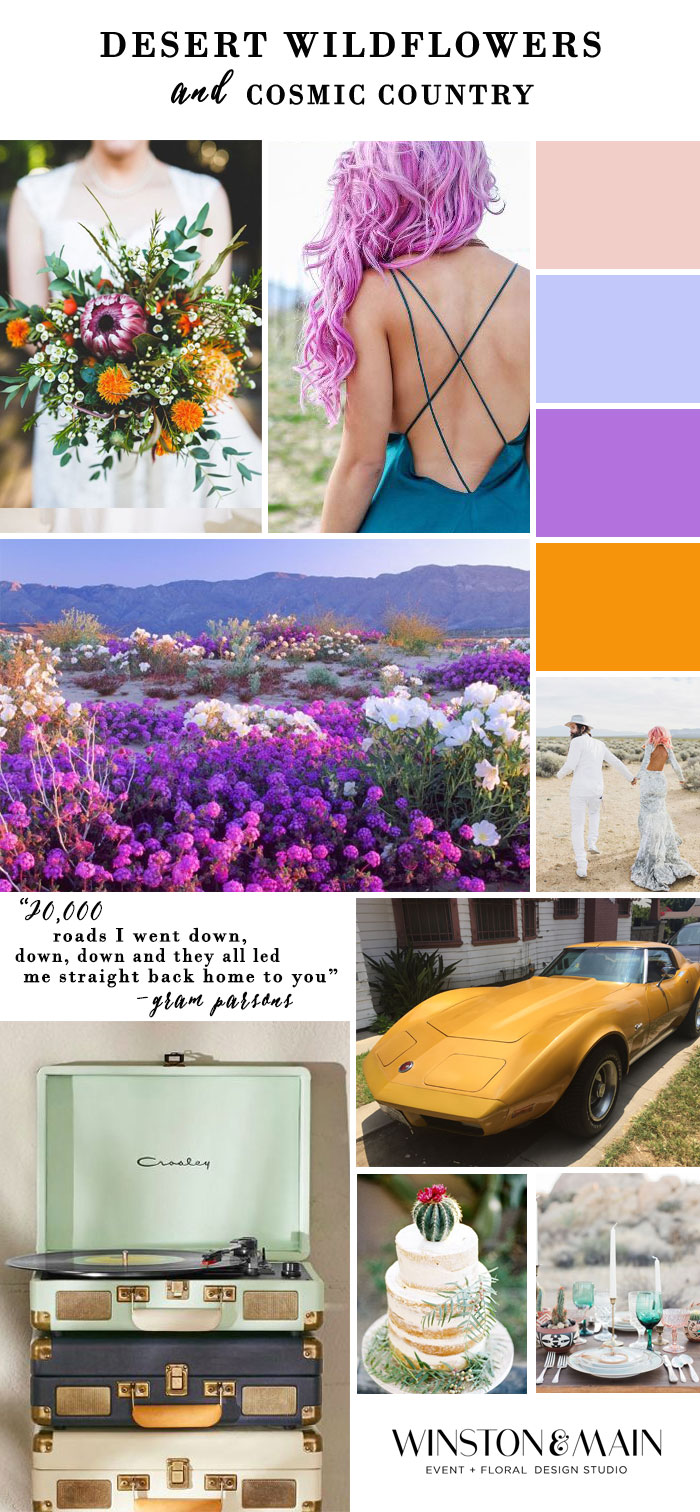 Bouquet/Hair/Wildflowers/Couple/Corvette/Tabletop/Cake/Records
 
Your mood board is an immediate visual answer to the the question.
It gives you all the feels and contain your palette and three elements.
And nothing else.
Now is the time to say goodbye to all those other good ideas,
and the 14 other weddings that could have been.
Make a mixtape, pack your snacks, and get ready to hit the road,
because you, my friend, have made your very own roadmap.
 
5. List out your projects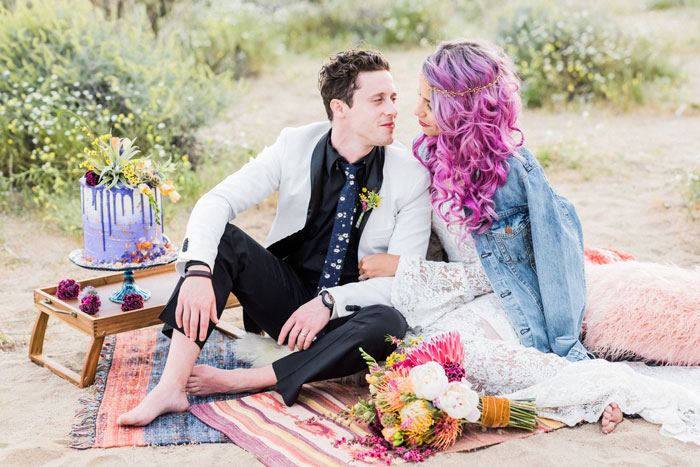 What key projects do you want or need to make your wedding/party/photoshoot work?
A variety of simple & impactful projects is best.
You don't need ALL THE THINGS. I promise.
For our elopement adventure I chose:
A Bouquet & Boutonniere
A Cake & Cocktail
A Sweetheart Table
A Custom Jacket with Gram Parsons Lyric
Musical Props- A Record Player & Guitar
"We Eloped" Records
Sure, we could have done more, more, more, but it wasn't necessary tell our story.
Remember the bare minimum, done beautifully, is often best.
 
6. Be a Ruthless Editor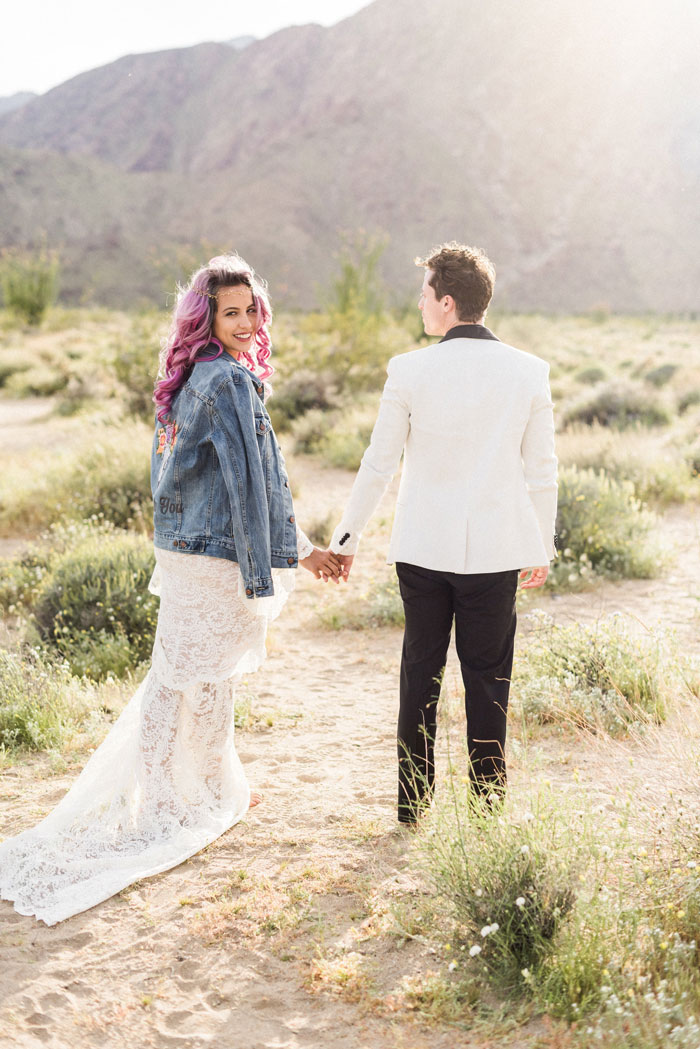 Again, inspiration is everywhere.
BUT if you're past your time limit AND you've made a mood board you love, well then, it's time for a little tough love my friend.
Is that amazingnewidea one of your 3 design elements? Does it 100% fit on your board?
If not, it doesn't matter how cool it is, let it go.
I think we'll stop here, and talk more tips for picking your projects, turning your lists and inspirations into tangible designs, and styling your day in the next post. I hope you find this series helpful, and would love to address your specific needs & questions. Or do you have a different design process that works for you? If so, I'd love to hear about it. Leave a comment below, over on Instagram, or shoot me an email.
Or maybe you're a newly engaged couple who thinks this is all swell, but just want to hire me to do it for you. Check out the services I offer right here.
 
Venue: Anza Borrego Desert State Park / Event & Floral Design + Planning: Winston & Main / Photography: Julie Shuford Photography / Dress + Accessories: The Blushing Bird / Cake: Mwokaji Cakery / Embroidery: Ink & Thread LA / Models: Ravayna & David Coe